This is an archived article and the information in the article may be outdated. Please look at the time stamp on the story to see when it was last updated.
The civil trial against Officer Robert Rialmo and the City of Chicago continued on Monday as Quintonio LeGrier's mother and Rialmo's partner testified.
"I miss hugging him. I miss telling him I love him and not being able to talk to him," Janet Cooksey, the 19-year-old's mother, said.
After getting into an argument Christmas day, she dropped him off at his father's house. His parting words to his mother were, "Remember this day."
On Dec. 26, 2015 Rialmo responded to a disturbance at an apartment in the 4700 block of West Erie Street around 4:30 a.m. where LeGrier was staying with his father. Rialmo fatally shot the teen.
Rialmo's partner, Anthony La Palermo, also testified on Monday. He spoke about LeGrier allegedly wielding a bat.
"I thought my head was going to split open. I jumped down the stairs backward. He came at us so fast without warning. He ambushed us," he said.
La Palermo said after the deadly shots were fired, LeGrier's father, Antonio LeGrier, told them several times, "You did what you had to do. You did what you had to do."
Antonio LeGrier testified Thursday and said he never told Rialmo "You did what you had to do," after the shooting .
"It drives home the point that these guys were within a hair's breadth of being banged with a baseball bat and had no choice but to use deadly force. It visibly brought it home." Attorney Joel Brodsky said.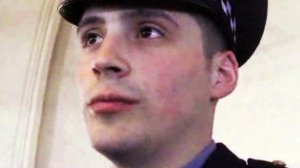 Rialmo testified Tuesday and it was the first time the jury was able to see him. He had not been in court because his attorney said he didn't want the jury misinterpreting his client's body language.
Rialmo looked nervous and annoyed at times when answering questions. He gave short one-word answers and often said he "could not recall" because the incident happened so long ago. He testified that him and his partner were watching a movie on Netflix in a lot across the police station when they got the call to respond to the LeGrier residence.
On stand, he contradicted himself multiple times. He said he didn't talk to his partner after the shooting, but that's not what he said in his initial deposition. He claimed he was  insufficiently trained to resolve situations without violence and said he was not given the right equipment. He called his training from the police academy "utterly a joke" but did admit that he had a baton that day--he left it in his squad car. He said he would have had access to 29 Tasers but let his certification expire.
Rialmo sued the city claiming he was insufficiently trained and didn't have proper, non-lethal equipment in the field. On Monday, his lawyer said they were dropping the lawsuit. The attorney said it could be brought up again at a later time without prejudice.
On Tuesday, jurors also heard from forensic pathologist Judy Melinek who testified for LeGrier's family.
Melinek testified that the trajectories of the wounds to LeGrier's body did not support Rialmo's version of what happened on Dec. 26, 2015.
Rialmo claims LeGrier had his arms up, with an aluminum bat in his hands. She stressed an entrance wound to the left elbow, which exited near the armpit, indicated LeGrier's arm was down. She said there was no way LeGrier had been swinging the bat or charging at the officers when he was shot. The bullet wound locations, she said, were inconsistent with Rialmo's version of what happened.
She also testified that other bullet wounds to the body showed trajectories from LeGrier's back to the front.
Rialmo's lawyer said this is only one expert's opinion.
"Quintonio had swung the bat once, had cocked it back up a second and then was about to swing and then he started firing," Brodsky said.
LeGrier was shot five times--once in the left arm and four times in the back.
"The idea is to keep shooting until the threat is gone. he did what he was trained to do," Brodsky said.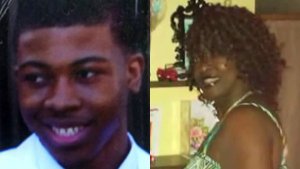 LeGrier's family sued the city after the college student was shot by Rialmo in 2015. Bettie Jones, a 55-year-old neighbor, was also fatally shot during the incident.
On the night of the shooting, the teen was allegedly swinging an aluminum baseball bat at the officer. A police disciplinary body found no evidence LeGrier did so.
Jones, LeGrier's neighbor was fatally shot by the same officer, in what police have called an accident.
An autopsy revealed LeGrier had marijuana in his system. The teen had mental health problems and had run-ins with police previously, according to officials.
The Cook County State's Attorney's Office declined to file charges against Rialmo.
The Civilian Office of Police Accountability, or COPA, recommended that Rialmo should be fired and ruled the shooting as unjustified. Chicago Police Supt. Eddie Johnson disagreed.
Two years after Jones' shooting, city lawyers reached a tentative $16 million financial settlement with her family.
LeGrier called 911 three times early morning on the day he was shot. In court Tuesday, Rialmo said he did not know LeGrier had called 911 three times asking for help.
In Feb. 2016, city officials said two 911 operators were suspended without pay for failing to send police when LeGrier was shot.
It wasn't until the third call that the city's Office of Emergency Management and Communications sent a squad car to check on the 19-year-old.