This is an archived article and the information in the article may be outdated. Please look at the time stamp on the story to see when it was last updated.
Mayor Rahm Emanuel wants to increase penalties for people who carry an unlicensed firearm anywhere near public transportation in Chicago.
The Chicago City Council committee on public safety heard testimony Monday to amend the municipal code, to fine tune the state's new concealed carry law.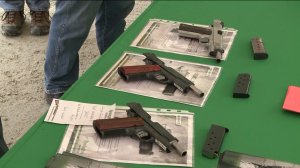 The proposed changes would increase penalties for having an illegal gun in public transportation safety zones including buses, trains, bus shelters and bus stops.
Penalties would start at $1,000 and 120 days in jail for the first offense and increase with each subsequent offense.
The NRA and aldermen agree on the changes.