This is an archived article and the information in the article may be outdated. Please look at the time stamp on the story to see when it was last updated.
CHICAGO — Democratic candidate for governor J.B. Pritzker has selected state Rep. Juliana Stratton of Chicago to be his running mate in the 2018 election.
The announcement was made at Sherwood Park on Chicago's South Side, in the district Stratton represents in the state legislature.
The billionaire businessman from Chicago said Thursday that Stratton has "taken on" Republican Gov. Bruce Rauner and will fight for working and middle-class families statewide as his lieutenant governor.
Stratton won her first term in office last year with the help of an endorsement from President Barack Obama. She defeated Rep. Ken Dunkin in a Democratic primary that was seen as a proxy war between Rauner and Democratic House Speaker Michael Madigan.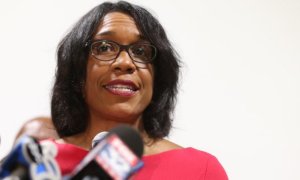 The Republican Party is not impressed. They called Stratton a loyal ally of Speaker Michael Madigan.
With today's announcement, Pritzker becomes the first candidate to select a Lt. Governor.
Cook County Democrats are gearing up to make an endorsement in this crowded field.
Thursday night, the new ticket heads to Springfield for campaign stops as the race for the Democratic nomination enters this new phase.
Pritzker is one of eight Democrats looking to unseat Rauner. Others seeking the Democratic nomination are businessman Chris Kennedy and state Sen. Daniel Biss.
Stratton is African-American and the first woman on any Democratic ticket.