This is an archived article and the information in the article may be outdated. Please look at the time stamp on the story to see when it was last updated.
The Survivors Network of those Abused by Priests released a list of clergy they believe should not be considered when choosing the new Pope.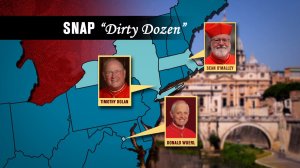 SNAP'S 'Dirty Dozen' names nine international cardinals and three cardinals from the United States including Cardinal Sean O'Malley from Boston, Cardinal Timothy Dolan of New York and Cardinal Donald Wuerl of Washington, D.C.
Activists say the priests should not be considered due to their poor handling of child sex abuse claims against clergy.
A Vatican spokesman says the list will not influence the selection of the next Pope.
A date has not been set for the Papal Conclave where Cardinals will choose the next head of the Catholic Church.