This is an archived article and the information in the article may be outdated. Please look at the time stamp on the story to see when it was last updated.
President Barack Obama visits Chicago today.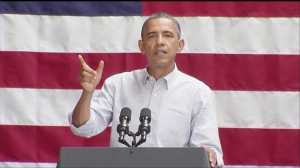 He's expected to visit the Hyde Park Academy on the South Side.
He'll also have some remarks about the murder of Hadiya Pendleton.
Obama's trip is part of a three state campaign tour.
He'll push for gun control and other issues he promoted in his State of the Union address.