This is an archived article and the information in the article may be outdated. Please look at the time stamp on the story to see when it was last updated.
Decision 2018: In-Depth Look at the Candidates
CHICAGO — There are six Democrats currently running for Illinois governor.
The frontrunner in polls is J.B. Pritzker, a billionaire venture capitalist.
Pritzker is self-funding and spending more than $63 million on the campaign.
In the blitz of ads, Pritzker is marketing himself as the candidate of bold ideas.
"We've got to think big in this state. We've got to get an awful lot done," he said.
Pritzker themes touch on creating jobs, economic inclusion, health care, early childhood education and standing up to President Donald Trump.
"I see a state ready to reunited. Ready to rebuild," Pritzker said.
For months, with key labor endorsements in hand, Pritzker looked past the primary and instead focused on Governor Bruce Rauner.
"Illniois is coming together with a common purpose beating Bruce Rauner," said.
His lieutenant governor running mate is State Rep. Juliana Stratton of Chicago.
"I'm ready to move our state forward with J.B. and with all of you," she said.
Pritzker's Democratic opponents, along with Rauner, have seized on the businessman's ties to Rod Blagojevich.
Last summer, the Chicago Tribune released audio from a 2008 FBI wiretap.
"Well, total non-issue. First of all, you give money to everybody, like Lisa Madigan. Ok?" Blagojevich is heard saying.
"Yeah, yeah, yeah," Pritzker responded.
Pritzker said there was nothing inappropriate about his conversations with the then-governor.
But that was not all on the recording. Last month, another clip was released. On this one, Pritzker lobbied Blagojevich to appoint Secretary of State Jesse White to Barack Obama's vacant Senate seat.
"It covers you on the African American thing. Emil's a little more crass. but it does cover you and it doesn't get you Jesse Jackson, Jr., which oh god, please. The one that's least offensive and maybe gets you the most is Jesse White," Pritzker is heard saying in the audio.
Pritzker quickly apologized.
"On that call I was not my best self. I can be better. I have been better," he said.
But the candidate shifted from offense to defense.
Another wealthy businessman, Chris Kennedy, is in the race. Former president of Merchandise Mart, he runs the family real estate holdings. The son of the late Robert F. Kennedy, and nephew of JFK, Kennedy has opened up about the gun violence that took his father and uncle.
"The bullet that kills the father wounds the child. We have entire communities dealing with PTSD and other issues," he said.
Kennedy is pushing a plan to combat gun violence. He wants to increase the number of police on the streets, toughening gun control, improving mental health services and provide trauma treatment to those impacted by violence.
"Now we know how to heal. Now we know how to help. And yet we don't help, we don't heal, we don't fix, cause we don't spend the money to do so," Kennedy said.
Kennedy picked activist Ra Joy to serve as his running mate. Joy's 23-year-old son, Xavier, was shot and killed last summer in Chicago.
"We've been trying to turn poison into medicine and find ways to turn pain into purpose," Joy said.
Inexperienced in politics, Kennedy seems to speak off-the-cuff. To some it could seem boorish, like when the candidate struggled to say something nice about Pritzker.
"When J.B. emerges as the posterchild of all that's wrong with the corrupt system in our state, it's difficult for me to heap praise on him," he said.
There was also Kennedy's blunt talk about gentrification
"I believe black people are being pushed out of Chicago intentionally by a strategy that involves disinvestment in communities," he said.
Those comments were widely condemned by the political establishment.
"I'm looking forward to ideas, not insults."
But others heard truth.
Kennedy has spoken out against the state's property tax system, calling it "a racket."
"I think we need to see that we're in a rigged system that's screwing everybody but the super-rich and the connected," Kennedy said.
The candidate faced backlash from members of his own party when he applauded Governor Rauner's effort to highlight conflicts of interests in the property tax appeal system, a system Kennedy himself may have taken advantage of.
State Senator Daniel Biss, a former math professor, is trying to stand out by telling working class voters he understands their day-to-day struggle.
"We need a middle class progressive to be governor of Illinois. We've had enough of inexperienced wealthy business people buying their way into office," Biss said.
Biss's platform calls for a "LaSalle Street Tax," that would collect money from financial transactions on the Board of Trade and Mercantile Exchange. He's also pushing to create a publicly-funded matching program for small campaign donations and leadership term limits.
Biss, who once ran a Super Pac for Michael Madigan, has tried to distance himself from the speaker in the wake of sexual harassment complaints in Springfield.
"Speaker Madigan should step down as chair of the Democratic Party of Illinois," Biss said.
Courting progressives, Biss initially tapped Chicago Alderman Carlos Ramirez-Rosa as his Lt. Governor pick. But he dropped him after six days over differences involving Israel.
Later, State Rep. Litesa Wallace joined the ticket.
"I'm the average person. I think so many people are waiting to see a face that is like theirs, they are waiting to hear a story that is like theirs," she said.
When the primary kicked into higher gear back in January, the team picked up steam, surging to second place in some polls.
But Biss has taken fire for writing a bill to cap state pensions and require workers to contribute more into their fund. The bill was later ruled unconstitutional.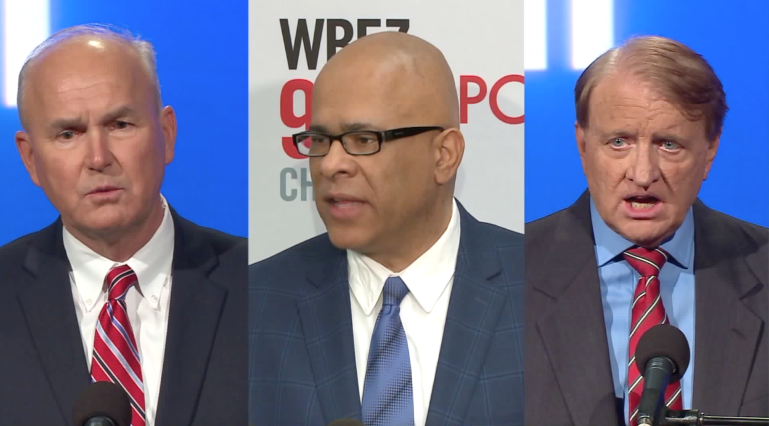 Three other candidates polling in low single digits are on the ballot.
In his second run for governor, "violence interrupter," Cease Fire co-founder Tio Hardiman is courting black voters.
"We've never had a black governor in the state of Illinois. As you can see how I'm dressed today I'm wearing tis a symbol for everybody in our great state," he said.
Bob Diaber, Madison County school superintendent is the first downstate Democrat to run for governor since 1998.
"I'm the only candidate that's been in leadership in organized labor. I've paid 28 years of union dues. That was the backbone of the Democratic Party. That still is the backbone of the Democratic Party. That's what I represent," Diaber said.
And finally, Dr. Robert Marshall wants to divide Illinois into 3 separate states – Chicago, the suburbs and downstate.
"Marijuana, casino gambling, dividing the state up into three brand new states. I'm an anti-establishment candidate and I have ideas that nobody has," he said.
Public and private campaign polls show a decent number of voters remain undecided. So the final week of campaigning could matter.
This is Part 8 of a 10-Part series where WGN profiles the candidates running for office.