This is an archived article and the information in the article may be outdated. Please look at the time stamp on the story to see when it was last updated.
Decision 2018: In-Depth Look at the Candidates
CHICAGO -- For the first time since 1993, someone new will represent the 4th, and three Democrats want the job.
It was a political stunner. Back in late November, Luis Gutierrez, after a quarter century in Congress, announced his retirement.
Gutierrez's went public only days before the filing deadline, leaving those who'd like to succeed him scrambling to come up with the signatures needed to get on the ballot.
The field started with seven, now it's down to three hopefuls.
Sol Flores jumped in right away after supporters reached out.
"Hundreds of people. I had past interns, friends of friends, ex-boyfriends, godparents," she said.
Flores is the executive director of La Casa Norte, a nonprofit battling homelessness.
"Over the last the last 15.5 years I've had the honor of working with people, looking at them eye to eye and working with mothers, arm and arm and what I'm clear is that homelessness and poverty is not their identity. It's a set of circumstances that they've changed that we can change in this county when we have the right political and moral will in our leaders," she said.
Flores has never held elected office. Neither has Richard Gonzales, a police officer, who is also in the race. Gonzalez has been a Chicago Police Sergeant for more than 25 years.
"Let me tell you what a police officer does he talks to folks in his beat, in his district. He gets to know what really matters to them," he said.
Gonzalez is also CEO and President of Metropolitan Development Cooperation.
"My involvement has been in the community always – a quarter century. We've brought in affordable housing all over the United States," he said.
And finally, the man Gutierrez wanted to anoint his success—Cook County Commissioner Jesus "Chuy" Garcia.
Gutierrez and Garcia are longtime friends—political students under Harold Washington.
The commissioner said he was weighing another bid against Rahm Emanuel for Chicago Mayor when Gutierrez decided not run again.
" Making the decision was difficult in that respect. But what made me fall in favor of doing this was the urgency to have a voice like mine in Congress from the 4th District, an immigrant, someone who has roots through the district. Someone who has built coalitions," he said.
Illionis' 4th District, shaped like horseshoe, covers Chicago's Humboldt Park and Pilsen neighborhoods and some western suburbs making it majority Hispanic.
The candidates said they'll stand up to President Donald Trump and champion immigrant causes.
Gonzales differentiates himself by wanting to create a registry of undocumented immigrants who live in the district.
"It's so important from a policeman's perspective. It's all about homeland security," he said. If you don't register that gives me from a police perspective that you're here for nefarious reasons."
For Flores and Garica, a registry is a nonstarter.
"We should not be profiling people. We should not be spying on ordinary citizens," Garcia said.
Gonzales wants to bring federal dollars to the district to fund education and job development programs.
"A creation of jobs and programs to mentor these young kids we would eliminate so much of the gangbanging that goes on in Chicago. But it doesn't exist. We have no mentoring programs for the youth," he said.
Flores said she'll push for more affordable, available health care. But more than anything, she said she'll be a different voice.
"When I'm talking to voters in the district do you know what they're saying to me? We want something fresh. We want something new. We want someone from your generation, your gender," Flores said.
Garcia, a veteran Chicago politician, who was a state senator and Chicago alderman, said he wants to work across the aisle to cut deals.
"I want to be someone who helps craft an infrastructure bill," he said. "I also care deeply about raising the living standards of working people. We've got to join the rest of the industrialized countries of the world and in providing health care to all of our people."
Gonzales has questioned Garcia's record.
"I've asked so many people the same question, tell me two things you know about Chuy Garcia that makes him such a good leader. No one has ever been able to answer that question," Gonzalez said.
And so in the 4th Congressional District it's a question of experience verses change.
And thanks to the following map, which makes the district solidly blue, the March 20 primary may well be the whole ballgame.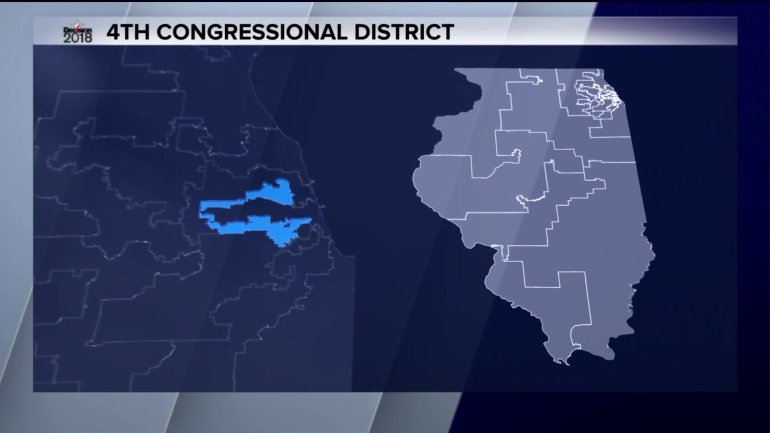 Senator Bernie Sanders was in Chicago last week for Garcia, who has a considerable fundraising advantage.
On the Republican side, just one candidate is in the race—Mark Wayne Lorch.
This is Part 1 of a 10-Part series where WGN profiles the candidates running for office.