This is an archived article and the information in the article may be outdated. Please look at the time stamp on the story to see when it was last updated.
CHICAGO — Chicago made history Tuesday evening as residents elected Lori Lightfoot as the city's first openly gay black female mayor. Lightfoot, 56, defeated Toni Preckwinkle, a former teacher who served on the City Council for 19 years before becoming Cook County Board president. Lightfoot, who served as an assistant U.S. attorney before entering private practice as an attorney, emerged as the surprising leader in the first round of voting in February when 14 candidates were on the ballot. Lightfoot promised to rid City Hall of corruption and help low-income and working-class people she said had been "left behind and ignored" by Chicago's political ruling class. It was a message that resonated with voters weary of political scandal and insider deals, and who said the city's leaders for too long have invested in downtown at the expense of neighborhoods. "Together we can and will make Chicago a place where your zip code doesn't determine your destiny," Lightfoot told a cheering crowd at her victory party. "We can and we will break this city's endless cycle of corruption and never again — never ever — allow politicians to profit from elected positions." She said people are seeing "a city reborn" — a place where race and "who you love" don't matter.
Preckwinkle said she called Lightfoot Tuesday night to congratulate her on a "hard-fought campaign." "While I may be disappointed I'm not disheartened. For one thing, this is clearly a historic night," she told a crowd gathered in her South Side neighborhood. "Not long ago two African American women vying for this position would have been unthinkable. And while it may be true that we took two very different paths to get here, tonight is about the path forward."
Thank you, Chicago! pic.twitter.com/IimreRoBff

— Lori Lightfoot (@LightfootForChi) April 3, 2019
Congratulations poured in for Lightfoot who has one daughter with her wife, Amy Eshleman. Brian Johnson, CEO of Equality Illinois, said the civil rights organization for lesbian and gay people was "thrilled" with the outcome. "This victory is historic, and it is also an undeniably proud moment for the LGBTQ community," Johnson said. Pete Buttigieg, the openly gay mayor of South Bend, Indiana, who's running for president in 2020, said on Twitter that Lightfoot "will be a terrific new leader for her city and in the community of American mayors."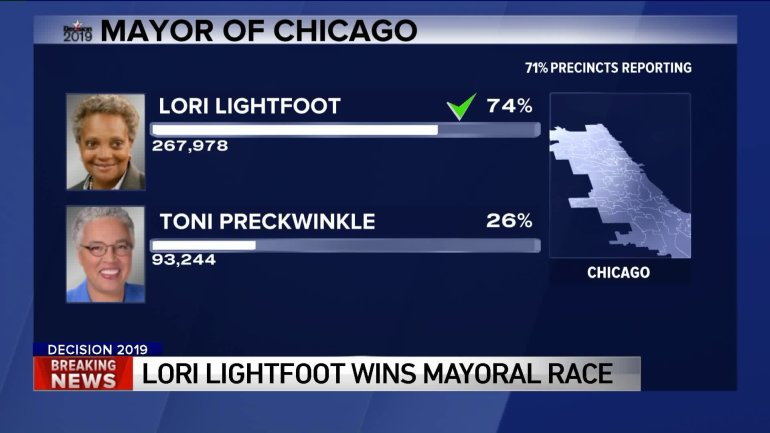 Chicago will become the largest U.S. city to have a black woman serve as mayor when Lightfoot is sworn in May 20. She will 
join seven other black women
 currently serving as mayors in major U.S. cities, including Atlanta and New Orleans and will be the second woman to lead Chicago. The final voter turnout in the Feb. 26 election was 35%, which was just shy of the lowest turnout in 2011 when it was at 33.8% when Emanuel was first elected. Millennials did not turn out in high numbers on Feb. 26. Just under 33,000 people between the ages of 25 and 34 cast a voted as of 4:30 p.m. Tuesday, compared to nearly double that amount for people 55 to 64. Nearly 60,000 Chicagoans applied to vote by mail this time.