This is an archived article and the information in the article may be outdated. Please look at the time stamp on the story to see when it was last updated.
CHICAGO — The polls have closed in Chicago where residents are choosing a new mayor, city clerk, city treasurer and 50 alderman. However, election officials said the voter turnout was low. Election officials stressed the importance of this election because it's a tight race. Voter turnout was light Tuesday morning, but there was still a steady stream of people hitting the polls. Around 7:15 p.m., Chicago Board of Election officials said there was a surge in voters between 4 p.m. and 6 p.m., meaning they expect the turnout to be around 36 percent. The record low was 33.8 percent in 2011 when Emanuel was first elected, according to officials. Jim Allen, spokesman for the Chicago Board of Election, said turnout by mid-day was around 19 percent of registered voters. Earlier in the day, election officials thought the city was on pace to have the lowest voter turnout in years.
Fourteen people
are running for mayor of Chicago. It's an unprecedented number of candidates and with no incumbent, the race is wide open.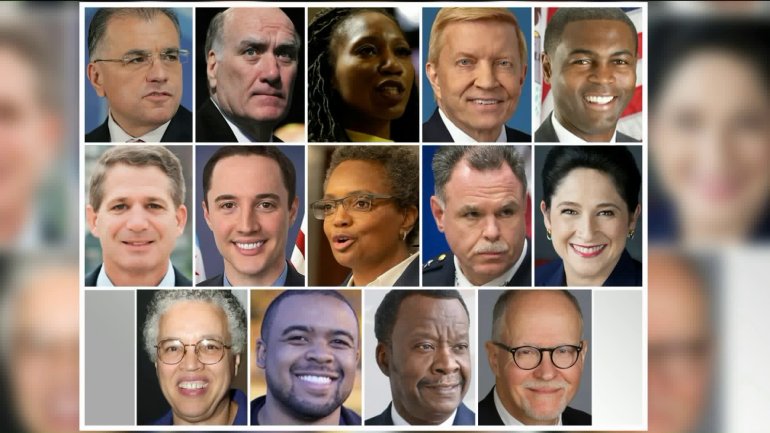 The Board of Elections is already prepared for a runoff between the top two candidates on April 2. They expect the margin to be so thin that no candidate gets more than 50 percent of the vote, which is what's needed to win. Early voting numbers are much higher than the last mayoral election, with 125,000 people casting their ballots ahead of time, but election officials said they still haven't received tens of thousands of mail-in ballots. The race is so close that it could come down to those mail-in ballots. If that's the case, Chicagoans might have to wait another two weeks before they know who's in the runoff race.
Polling place problems
Three judges were removed from polling places. One judge was removed in the 26th Ward after complaints of the judge verbally supporting an aldermanic candidate and encourage people to vote for that candidate. He then allegedly began yelling racial slurs at voters. A second judge was removed in the 34th Ward for being verbally abusive and a "lack of cooperative behavior." The third judge was removed for inebriation. A request was made to extend voting hours to 8 p.m. at Independence Park in the 45th Ward. Because of issues with equipment, voting at that location did not start until 8:15 a.m. and officials had to turn away about 20 people. At one point Tuesday, there was no power at a location at the 5th Ward because of a blown fuse. A landlord eventually fixed the issue. Shots were fired outside a polling place in 12th ward at 3417 S. Hamilton Ave. Police found the car involved and a suspect with a gun. No one was injured.