This is an archived article and the information in the article may be outdated. Please look at the time stamp on the story to see when it was last updated.
Decision 2018: In-Depth Look at the Candidates
CHICAGO — You are going to hear a lot about Illinois' 6th Congressional District this fall. National Democrats think it's the kind of district they can flip.
Republican incumbent U.S. Rep. Peter Roskam has held the northern Illinois seat since 2007. He's a party leader and reliable conservative vote — but the district is trending blue. Voters opted for Hillary Clinton over Donald Trump in 2016.
Now the seat — which serves parts of Cook, DuPage, Kane, Lake and McHenry counties — is one Democrats badly want.
Seven hopefuls will compete in the Democratic primary on March 20.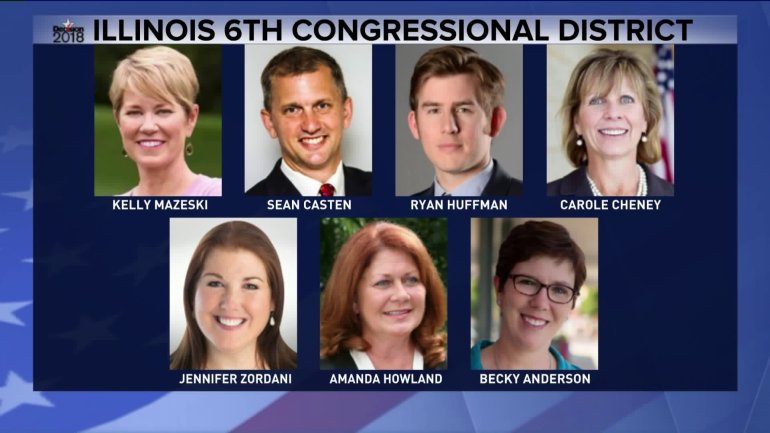 Sean Casten, a scientist, engineer and entrepreneur, says he can beat Roskam in November by courting moderate Republicans.
"Hillary Clinton won this district by seven points," Casten said. "Roskam has been very safe because he's run against people who are good solid Democrats and appeal to the left but really don't appeal across the aisle. And if you can't get 30,000 to 40,000 Republicans to come across, as Hillary did, you can't win."
Casten began the year with nearly half a million dollars in the bank, giving him a big boost.
Five women are in the race, including three who are cancer survivors.
Kelly Mazeski, who leads all Democrats in fundraising, entered the race last spring on the same day U.S. House Republicans voted to repeal Obamacare.
"I'm running for Congress because I'm a breast cancer survivor, and I had to buy insurance on the healthcare exchange," Mazeski said. "I understand how important it is to people to have access to affordable quality health care."
Attorney and former elementary school principal Amanda Howland was the Democratic candidate in the district in 2016. Roskam defeated her by 19 points, but Howland is back for another round.
"With no paid staff and no money from Washington," Howland said, "we managed to pull in 41 percent of the vote with a $130,000 budget against [Roskam's] $3 million. The difference this time around [is that] we've grown significantly from the grassroots movement we had last time."
Becky Anderson Wilkins serves on the Naperville City Council. She beat several opponents to win that seat and is telling voters she knows the way to win in November.
"It's going to take somebody who can reach out to both sides and not avoid people just because they have opposing views," Wilkins said. "We need to find out what we have in common."
Carole Cheney is a former chief of staff to U.S. Rep. Bill Foster (D-11). Cheney is telling voters her policy experience makes her the best choice.
"I listened to our constituents," Cheney said. "I made the government work for people. I also held the town halls that Peter Roskam does not hold. I know what's it's like to represent the interest of our community in Washington, D.C."
Jennifer Zordani, a regulatory attorney, wants to make government more efficient.
"I know that our laws could be better," Zordani said. "They could be better written. They could be better focused, more modern in terms of addressing our current economy and what people face in their daily lives."
Rounding out the bunch is Ryan Huffman, who previously spent time in Washington, D.C., as a U.S. Department of Energy employee and White House intern.
"You've got to get those people out to vote," Huffman said, "because the largest voting bloc is people who actually don't come out in the election typically, and that's a lot of people in my generation and younger."
The seven candidates are already taking the fight to Roskam. They see his work on the GOP tax bill as a liability. At a recent League of Women Voters forum, the Democrats said they would not have voted for recent tax overhaul legislation.
Roskam told WGN News in November that he's staking his reelection on taxes.
Both taxes and Roskam's voting record are expected to be at the center of this fall's campaign.
The Democratic Congressional Campaign Committee is waiting to flood the district with resources.
Roskam will make a formidable opponent. He's got money and is well connected to popular Republicans who can stump for him. It's not clear whether this district, which is solidly upper middle class, will find the new tax law troubling.
This is Part 3 of a 10-Part series where WGN profiles the candidates running for office.