This is an archived article and the information in the article may be outdated. Please look at the time stamp on the story to see when it was last updated.
Chicago police have charged a man in a Southwest Side murder. He's also charged in a shooting on the North Side.
Police say Joey Jones entered a grocery store in the 2400 block of W 63rd St Tuesday morning, exchanged words with an employee before fatally shooting that employee.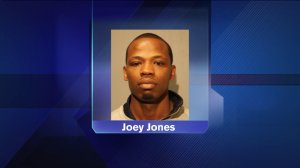 Jones fled in a late model white Ford Crown Victoria.
Then, around 9:45 a.m. in the 1100 block of W Wilson on the North Side, police say Jones struck again.
50-year-old Brion Payne was shot in the head this while he stopped for coffee.
Police told Payne's family the victim found himself arguing with someone in the parking lot. When he turned to walk away, that someone shot him in the head.
Payne is expected to survive, but is listed in critical condition.
Joey Jones in charged in both shootings. The getaway car that was recorded on surveillance video was found outside Jones' home.