This is an archived article and the information in the article may be outdated. Please look at the time stamp on the story to see when it was last updated.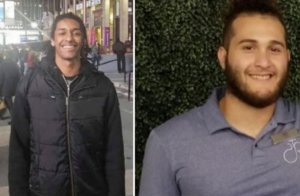 CHICAGO — The two bodies pulled from the DuSable Harbor Tuesday morning were identified as the missing men who were last seen at River North nightclub over the weekend.
The Cook County Medical Examiner confirmed the identities of Joseph "Joey" Ramos, 22, and Antonio "Tony" Lemon, 21.
Chicago police spokesperson Anthony Guglielmi tweeted Tuesday afternoon that no foul play was suspected and it was a "horrific accident."  The car the men were in appeared to have lost control and went into Lake Michigan at a high rate of speed, according to Guglielmi.
Tragic update from this mornings sunken vehicle in Lake Michigan. Investigators determined there is no foul play & this was a horrific accident after car appears to lose control & drive into the lake at a high rate of speed. Our heartfelt condolences go to all those affected. pic.twitter.com/mjD9CCnnXV

— Anthony Guglielmi (@AJGuglielmi) November 19, 2019
Ramos and Lemon were last seen leaving LITE nightclub in the 200 block of West Ontario early Sunday. The men were driving a blue four-door Dodge Avenger with Illinois plate AQ54397.
A report of a vehicle in the DuSable Harbor came into police just after 3 a.m. Tuesday. According to police, authorities tracked a cell phone of one of the men to the DuSable Harbor area.
BREAKING: Vehicle pulled from Dusable Harbor is a Dodge. The two missing men were said to be traveling in a Dodge Avenger. @WGNMorningNews @WGNNews pic.twitter.com/iCn0VwWaj8

— Nancy Loo (@NancyLoo) November 19, 2019
Officials said they found POD camera footage from Sunday, which shows a vehicle driving into Lake Michigan.
The family of the missing men spoke to the media earlier Tuesday morning.
"I don't want it to be them, but we want to know where they are. We're worried sick, there's a knot in our throat that feels like it's choking us," said a very emotional family member.