This is an archived article and the information in the article may be outdated. Please look at the time stamp on the story to see when it was last updated.
CHICAGO -- Police are trying to track down a man on a bike, inappropriately touching women.
It happened three times in 30 minutes in the Lincoln Square and Ravenswood neighborhoods.
One of the crimes happened on a busy street right next to a park. People said they couldn't believe something like this would happen in their neighborhood.
"I've always felt safe we use to leave our door unlocked but not anymore," said Lynn Gilliland.
Gilliland and her husband have lived in Ravenswood for nearly 30 years. She said she chose the area because it didn't have much crime.
"We've had like small burglaries bikes stolen car windows were smashed for awhile on our block," said Gilliland.
But she said she's never heard of sexual assaults, until now. Police are alerting people that a man is riding around on a bike, inappropriately touching women.
"For safest places to live, Ravenswood is always in the discussion so it's kinda surprising to hear, really surprising frankly to hear that there's something going on," said Jesse Luciano, a resident.
The groping happened three different times on Thursday between 10:30  a.m. and 11 a.m.
Police say the man targeted women walking alone or with children.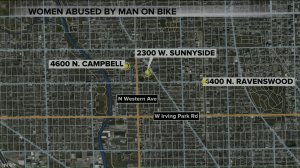 The first was on this block of north Ravenswood. Police say it happened again about 15 minutes later on Sunnyside and again another 15 minutes later a few blocks away.
"I'm certainly going to keep my eyes open and I think the only thing you can do is be aware," said Luciano.
"It just wakes me up to walk around and pay attention more and not get lost in my thoughts which is easy to do," said resident Elizabeth Johnson.
Police are hoping the community can help. They're looking for a white or Hispanic man between the ages of 25 and 40. They say he was riding a silver BMX bike when the crimes occurred.
"I think as long as everyone is keeping their eyes open and they're willing to report anything that they might see I think that's the way to have the community self-extinguish the problem," said Luciano.
Police are asking anyone with information about these crimes, to call area north detectives.