This is an archived article and the information in the article may be outdated. Please look at the time stamp on the story to see when it was last updated.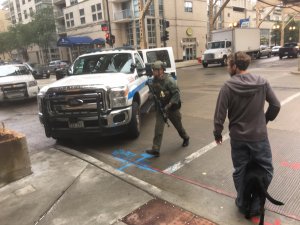 CHICAGO -- An attempted armed robbery at a West Loop Dunkin Donuts created a lot of confusion and concern this afternoon.
Chicago police officers and the SWAT team responded around 12:45 p.m. to the Dunkin Donuts in the 500 block of West Lake.
Authorities arrived to a barricade situation and then began to look for the suspect.
During the search, police closed off Lake Street between Clinton and Jefferson where CTA headquarters is located.
Dunkin Donuts employees did not comment.
So far no arrests have been made.
Police remain on the scene.  The investigation is on going.