This is an archived article and the information in the article may be outdated. Please look at the time stamp on the story to see when it was last updated.
ELMHURST, Ill. -- Police arrested three men who were wanted after a string of armed robberies after a manhunt early Tuesday morning.
The armed robbers started their night in in the quiet town of Sycamore, Ill., and ended up being arrested in west suburban Elmhurst after robbing two gas stations.
Police in  Elmhurst captured one armed robbery suspect Tuesday morning after a manhunt that lasted more than six hours. The suspect was the last of three arrested for a crime spree that started late Monday night in Sycamore.
Police say three men robbed at least two gas stations at gunpoint, before getting into a car accident in Elmhurst at about 1:30 a.m. near North Avenue and Indiana Avenue.
Elmhurst police recognized the car from a state police bulletin.
When officers approached the car, the three ran off.  Two were quickly apprehended, but the third remained on the loose until around 8 a.m. Tuesday when a resident spotted him hiding under a deck and called 911.
Security cameras show men robbing a 7-Eleven in Sycamore and a BP gas station in Carol Stream.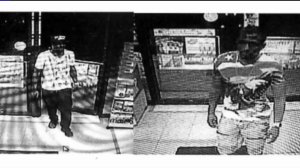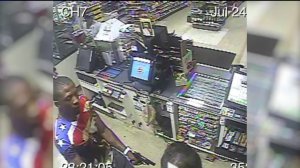 The 7-Eleven clerk was shot twice in the legs and taken to the hospital.  He is in stable condition.
The attendant at the BP was not hurt.
Police say they hope to have charges filed against the men in DeKalb County by the end of the day on Tuesday.