This is an archived article and the information in the article may be outdated. Please look at the time stamp on the story to see when it was last updated.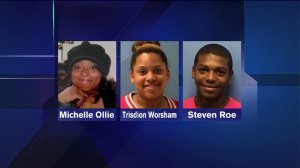 Police and relatives say they have no idea why a father in Robbins shot and killed his wife and two teenaged children.
Police say Michael Worsham began the shooting rampage late Sunday night, first killing his 17-year-old stepson, Steven Roe.
He then dragged his wife, Michelle Ollie, out of bed and shot her.
Their 14-year-old son confronted Worsham and fought for the gun.
But Worsham told him to run out of the house.
Police say Worsham then shot his stepdaughter, 15-year-old Trisdion, in the back  as she tried to run out of the house.
Police say Worsham also fired shots at witnesses who saw the shooting from the street.
They were not injured.
Worsham's body was found inside the home police say he suffered a heart attack.
His 14-year-old son and his 5-year-old grandson survived.
Police say Worsham had no criminal history and worked as a security guard at Thornton High School.