This is an archived article and the information in the article may be outdated. Please look at the time stamp on the story to see when it was last updated.
CHICAGO — Police are looking for suspects, including a group of young people, after victims reported multiple assaults on the CTA Red Line and its platforms between Sunday night and Monday morning.
One of the victims said he was riding the Red Line home from a late night at work — as he's done for more than a decade — when two men stole his phone and beat him on the train around 3:30 a.m. Sunday.
As the train approached the Harrison stop, the victim said the men blocked him from pushing the emergency alarm button in the train car. Other people on the train froze as they attacked him and took his belongings, he said. Nobody helped him until they arrived at the platform and he was able to run and scream for help.
After chasing after his assailants, the man said he was actually able to get his belongings back. His orbital bone was fractured in the attack, and he will likely have to have plastic surgery in the new year to fix his eye. Over concerns for his safety, he asked to remain anonymous.
The same night on the same Red Line, Chicago police say a group of young people who may have been teenagers attacked a 61-year-old man as he exited the train near State Street and Lake Street around 11:45 p.m. Sunday.
They also beat up a good samaritan who tried to help the man. Police say they are taking this seriously and will beef up security with canines on new years eve, but one of the men who was attacked this weekend says it's just not enough.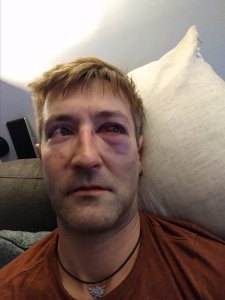 The man later told police he was riding a northbound Red Line train when he was harassed by the group, and as he exited at Lake, the group of 6-10 people followed him onto the platform and began to attack him.
The group reportedly punched him in the face and body, and a 21-year-old Good Samaritan who tried to intervene was also attacked by the group.
The group got away with the 61-year-old man's bag and the 21-year-old man's cell phone, and are not in custody. They are described as a mix of males and females, possibly teens. The victims were transported to Northwestern in good condition with facial abrasions.
Thankfully, these recent victims survived and escaped but one of them says it will be a long time before he recovers emotionally. He's speaking out to call for more security on the CTA.
"My biggest concern is why isn't there more safety on the CTA? I rely on that every day. I've ridden on this train for 13 years. I've never had anything like this happen before," he said.
Police say they are reviewing surveillance video as they search for suspects.