This is an archived article and the information in the article may be outdated. Please look at the time stamp on the story to see when it was last updated.
ROCKFORD, Ill. — A man suspected of fatally shooting a McHenry County sheriff's deputy has been charged with first-degree murder. Deputy Jacob Keltner, 35, was shot Thursday as he worked with a task force to serve an arrest warrant at Extended Stay Hotel in Rockford.  Keltner was a deputy assigned to the U.S. Marshal's Service.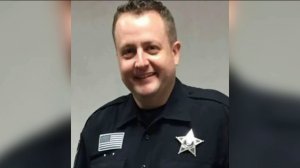 Authorities had issued the warrant against Floyd E. Brown, 39,  for burglary and parole violation charges. Sources said  Keltner was covering the outside perimeter of the hotel, possibly with another officer.  A team of six were inside the hotel in the hallway ready to storm Brown's room. There were two deputy U.S. marshals in the hallway and six task force police officers. All were armed with 15 long guns and shields. Police said Brown fired through his hotel door then jumped from his third floor hotel room window and fled the scene in a Mercury Grand Marquis. Keltner was shot in the head. Brown lead police on a chase southbound on Interstate 55 until Brown's vehicle was disabled by a spike strips near Lincoln, Illinois. Brown then lost control of his car an crashed. An hours-long standoff followed. Officers employed flash grenades to disable Brown after trying for hours to negotiate with him to surrender, police said. Brown surrendered to authorities around 5 p.m. Keltner was taken to the hospital and placed on life support until his family could be notified. Keltner was a 12-year veteran of department.  Keltner comes from a family of law enforcement officers. His father was a Dupage County sheriff's deputy, a job his brother currently holds.  He leaves behind a wife and two children. Prosecutors in Winnebago County initially issued a warrant with $5 million bond against Brown for attempted murder. State's Attorney Marilyn Hite Ross said the charge was upgraded to first-degree murder after Keltner died. A spokeswoman for the U.S. attorney's office said Brown also will face a federal murder charge in the death of the deputy, who was assisting federal law enforcement when he was shot. Those charges could mean Brown would face the death penalty. Brown was taken to a hospital to be treated for several injuries, authorities said. A female acquaintance of the suspect was also shot in the incident. Police said gunshot wound she sustained is believed to be from the suspect. She was treated at the hospital and released.