This is an archived article and the information in the article may be outdated. Please look at the time stamp on the story to see when it was last updated.
LANSING, Ill. — After a Halloween decoration resembling a person hung from a tree sparked outrage on social media Monday, Lansing police said the homeowner had no "malicious intent," and it was taken down after officers arrived on the scene.
Photos posted to social media show a scene resembling a hanging, including a human-like figure with its arms and legs bound and a trash bag over the head, strung from a tree by ropes wrapped around its neck.
Toya Griffin told the Northwest Indiana Times her daughter took a picture of the decoration while walking to school because she found it disturbing. Griffin later posted the image to social media, where it quickly began to spread.
"If you see something like that, it brings a fear and it brings emotions," Griffin told the NWI Times.
As the image spread, neighbors and other Facebook users visited the house to document the decoration with videos and photos. Several viewers shared the image with WGN-TV, indicating they found it to be offensive.
In one video posted to Facebook by Nate Fields, a person who says they are responsible for the decorations responds to a comment that people found the decoration offensive because it resembled a black person says, "it was never meant to be like that."
Additional videos shared with WGN shows multiple figures resembling people made out of stuffed clothes strewn around the yard and home.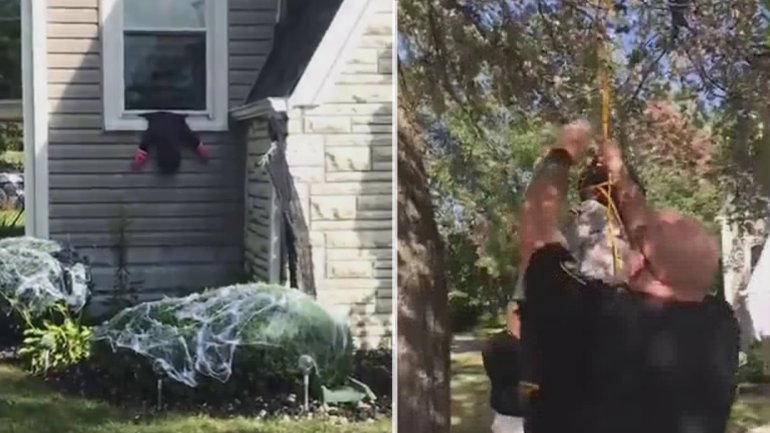 Officers responding to the scene spoke with the homeowner and several neighbors, who told police the decoration originally was wearing a "Jason"-style mask but someone had removed it, the Lansing Police Department said on Facebook.
"Our investigation into this incident revealed no malicious intent and that this was simply a Halloween decoration that had been vandalized," police said.
Video shared with WGN shows officers taking the figure down from the tree after speaking with the homeowner.