This is an archived article and the information in the article may be outdated. Please look at the time stamp on the story to see when it was last updated.
The Chicago Police Department and Chicago Public Schools are taking steps to assure parents their children will be safe on their way to and from school this year.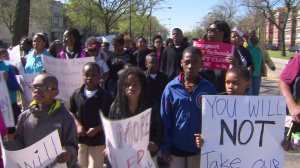 Members of both police and CPS scheduled a news conference for Friday morning at the Homan Square Fieldhouse in the North Lawndale neighborhood.
They, and other city agencies, under Mayor Emanuel's direction, are expanding the Safe Passage program to include children whose schools are being closed this summer and who will have to travel to other neighborhoods in the fall.
Chicago Police Deputy Chief of Patrol Steve Georgas, officials from Chicago Public Schools, Department of Buildings, Department of Transportation, Department of Family and Support Services, the Public Building Commission, and representatives from other departments will be answering questions at the news conference at 10a.m. Friday.
CPS is closing nearly 50 schools and parents are concerned about their children crossing into possible gang territory as they leave their own neighborhood to attend school.