This is an archived article and the information in the article may be outdated. Please look at the time stamp on the story to see when it was last updated.
Five men were shot Monday evening in Uptown on a route that CPS has designated a Safe Passage route when schools reopen next week.
The shooting happened just before 6 p.m. at the corner of Wilson and Sheridan
Witnesses told police up to 20 shots were fired from what sounded like an assault weapon after a white Sedan pulled up at the corner of Wilson and Sheridan Road.
Joseph Rogers is a security guard at  a convenience store at this corner that's been troubled with gang violence. He says he saw a white car speeding from the scene.
"It looked like a war had taken place," he said.
The victims ranged in age from 21 to 58-years-old.  Police say all have gang ties, except the youngest, who was the most seriously hurt.
He's in critical condition at Illinois Masonic Medical Center with a bullet wound in the head. Police originally reported him dead at the scene.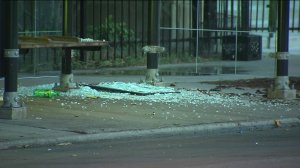 The shooting happened just steps away from Uptown Baptist Church where members were in the basement having a prayer service and serving food to the homeless.
The pastor of  Uptown Baptist tells says its possible a few of the victims had either been coming to or leaving the church, though none are believed to be church members.
The car police believe was used in the shooting was found abandoned a few blocks north on Sheridan, near Lawrence.
There is a blue light surveillance camera at the intersection where the shooting took place that police are checking for clues.
No one is in custody.