This is an archived article and the information in the article may be outdated. Please look at the time stamp on the story to see when it was last updated.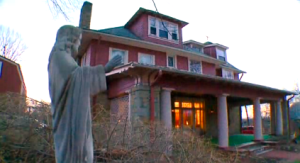 What one Pittsburgh family thought was their dream home turned out to be a house of horrors.
In a new book based on true events titled "The Demon of Browsnville Road," the Cranmer family claims that a demon terrorized them in their home for years.
When they first moved in, odd things began happening but they were innocuous — water left running, radios turning on. But then the unexplained activity intensified, including instances of broken crosses and bleeding walls.
It wasn't until exorcists forced the demon to leave that the family finally had peace.
The family says they are publishing their nightmarish story in an effort to help others.
For much more on this story, check out WJW's coverage here.