This is an archived article and the information in the article may be outdated. Please look at the time stamp on the story to see when it was last updated.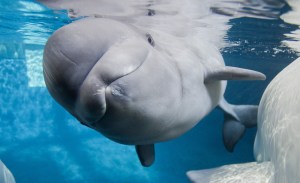 The Shedd Aquarium's beluga whale Mauyak gave birth to a healthy calf over the summer, but she doesn't have a name yet!
You can vote on the what the baby beluga should be named at wgntv.com/contests starting April 22.
In the meantime, you can get to know the baby beluga through these photos provided by the Shedd Aquarium.
Mauyak's calf's debut in October 2012. Photo by Brenna Hernandez

Beluga Mauyak and her calf at 1 week old. Photo by Brenna Hernandez

Beluga Mauyak and her calf at 1 week old. Photo by Brenna Hernandez

Beluga Mauyak and her calf at 1 week old. Photo by Brenna Hernandez

Beluga Mauyak's calf in April. Photo by Brenna Hernandez

Beluga Mauyak's calf in April. Photo by Brenna Hernandez

Beluga Mauyak (left) and her calf in April. Photo by Brenna Hernandez

Beluga Mauyak and her calf in April. Photo by Brenna Hernandez

Beluga Mauyak and her calf in April. Photo by Brenna Hernandez

Beluga Mauyak and her calf in April. Photo by Brenna Hernandez

Beluga Mauyak and her calf in April. Photo by Brenna Hernandez

Beluga Mauyak's calf in April. Photo by Brenna Hernandez