This is an archived article and the information in the article may be outdated. Please look at the time stamp on the story to see when it was last updated.
Jurors said hearsay evidence was pivotal in convicting Drew Peterson of killing third wife, Kathleen Savio.
Four jury members, including the foreman, spoke out at a news conference in Joliet on Friday.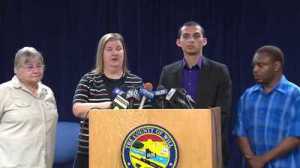 At the beginning of deliberations, jurors said they all believed Savio was murdered but they didn't all think Peterson did it.
After reviewing the hearsay testimony of statements Stacy Peterson made to her pastor Neil Schori and Savio's divorce attorney Harry Smith, they were convinced and came back with a guilty verdict.  Both witnesses said Stacy told them that Peterson killed Savio.
"The hearsay testimony from Stacy, that was the biggest part about this," said jury foreman Eduardo Saldana, 22.
Juror Jeremy Massey and alternate juror Patricia Timke were also at the news conference.
The jurors said that without the hearsay evidence, they are unsure that they would have convicted Peterson.