This is an archived article and the information in the article may be outdated. Please look at the time stamp on the story to see when it was last updated.
CHICAGO — Hundreds of thousands of people who turned out for a women's march in Chicago have spilled into downtown streets.
Officially, organizers canceled the march portion of the Women's March on Chicago due to overwhelming turnout. But after a rally concluded in Grant Park people began flooding nearby streets, chanting and waving signs protesting President Donald Trump.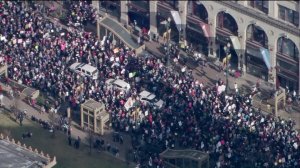 The event is occurring the same day as a march in Washington and similar events in 200 cities, including Springfield and Carbondale.
Donna Martin of Chicago says she came out because "I wanted to be counted."
The 42-year-old pastry chef says the large number of people at the Chicago rally sends a clear message to Trump and his supporters.
Martin says "It means we are powerful. Everything's going to be OK."