This is an archived article and the information in the article may be outdated. Please look at the time stamp on the story to see when it was last updated.
CHICAGO — The installation of a 100-ton, 150-foot pedestrian bridge at the 95th Street Red Line station Sunday marks one of the last major milestones in the CTA's $280 million upgrade of one of its busiest destinations.
"It's a much safer passage over 95th street. It's like a bow over the whole facility," said Katrina Denny, CTA Project Manager.
Orange barrels and construction signs blocked 95th Street from State Street to Lafayette Avenue Sunday as crews made way for massive cranes used to lower the glass and steel pedestrian bridge into place. Each portion of the bridge weighs more than 73,000 pounds.
Check this out! By tomorrow, there will be a brand new bridge over 95th St. near State. It's for pedestrians & @cta passengers to cross, connecting the north and south terminals of the Red Line Station. pic.twitter.com/m1qU1Feonh

— Courtney Gousman (@cgousman) November 18, 2018
The finished enclosed structure will connect the south terminal of the 95th Street Red Line station to the north terminal, which is still under construction. Situated at the end of the Red Line, the South Side station is a major transportation hub for the CTA, serving an estimated 20,000 riders who come to catch the train or bus each day.
"It's really nice because if it's snowing outside, or a bad rain day, it'll be really nice to walk through instead of getting rained on," said Red Line passenger Dominique Gonzalez.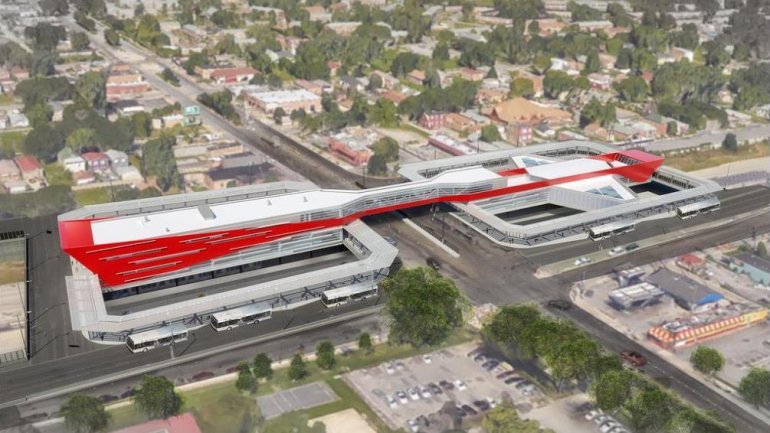 After the steel spans are put in place, 95th Street will reopen to traffic around 11:30 p.m. Sunday. The completed terminal is slated to debut by the end of this year.
"It will feel very new. I anticipate drivers for the first couple weeks will be looking at it and getting used to it. It will be great for the area to have this iconic building and structure," Denny said.
Drivers along 95th Street will notice lane reconfigurations for the next 2-3 weeks as crews work to put the glass enclosures and flooring in place. For the latest details, visit transitchicago.com/alerts.