This is an archived article and the information in the article may be outdated. Please look at the time stamp on the story to see when it was last updated.
PAWS volunteer Mark Lukas plays with a puppy awaiting adoption.

A dog eagerly awaits adoption at PAWS Chicago.

PAWS volunteer Mark Lukas plays with a puppy awaiting adoption.

One of the many dogs available for adoption at PAWS Chicago.

The lobby of PAWS Chicago, where many came in hopes of finding a pet a home.

NFLers Eric Winston, Jay Feely and Alex Brown get ready before the "Road to the Puppy Bowl Draft" event at PAWS Chicago.

Hats depicting the two teams set to draft puppies sit on the lectern at PAWS.

NFLers Jay Feely, Eric Winston and Thomas Davis get ready before the "Road to the Puppy Bowl Draft" event at PAWS Chicago.

A PAWS worker holds an adoption-eligible puppy.

Former Bear Alex Brown looks into a room holding one of PAWS' adoption-eligible puppies.

Alex Brown, Thomas Davis, Eric Winston and Jay Feely await the puppy draft.

Spectators and volunteers await the event at PAWS Chicago.

Puppy Bowl "rufferee" Tommy Gimler announces the beginning of the puppy draft.

Spectators look on during the Road to Puppy Bowl Draft.

Team "Ruff" makes its first selection.

Team "Ruff" poses with its new draft pick.

Team "Fluff" meets its newest draftee.

The event continues as team Ruff sends in their pick.

The pick is announced.

Team Ruff meets one of its drafted puppies.

Eric Winston enjoys the events at the Road to the Puppy Bowl Draft.

PAWS workers ready their adoption-hopeful puppies.

The final list of names on the puppy draft board.

Team photo with NFL stars, volunteers and pets.

Sylena Smith poses with her daughter and boyfriend after adopting a new puppy.

The outside of PAWS Chicago, which hosted the Road to the Puppy Bowl Draft.

The list of names for the Road to the Puppy Bowl Draft.

Two dogs eagerly await adoption at PAWS.

Dogs eagerly await adoption in a room at PAWS Chicago.
CHICAGO – Football, puppies, puns and fun: PAWS Chicago had it all Wednesday.
It was more than Sylena Smith had expected. The 45-year-old mother had stopped by the animal shelter with her 7-year-old daughter Nyemah and her boyfriend Ernest to adopt one of the many puppies available for rescue.
It turns out the puppy she wanted went by the name "Eli Mutting," a play on the name of New York Giants quarterback Eli Manning. "Mutting" was one of 10 dogs taken Wednesday in the "Road to the Puppy Bowl Draft," an event orchestrated by PAWS, Animal Planet, the ASPCA and the National Football League Players Association.
Animal Planet came up with the idea, and PAWS was on board from the beginning.
"We were like, 'For sure; this would be great,'" said PAWS Chicago founder Paula Fasseas.
Wednesday's laid-back event was open to the public, the draft itself symbolic, and NFL players joined in on the fun to pick among a plethora of tail-wagging hopefuls literally salivating at the idea of finding a new home.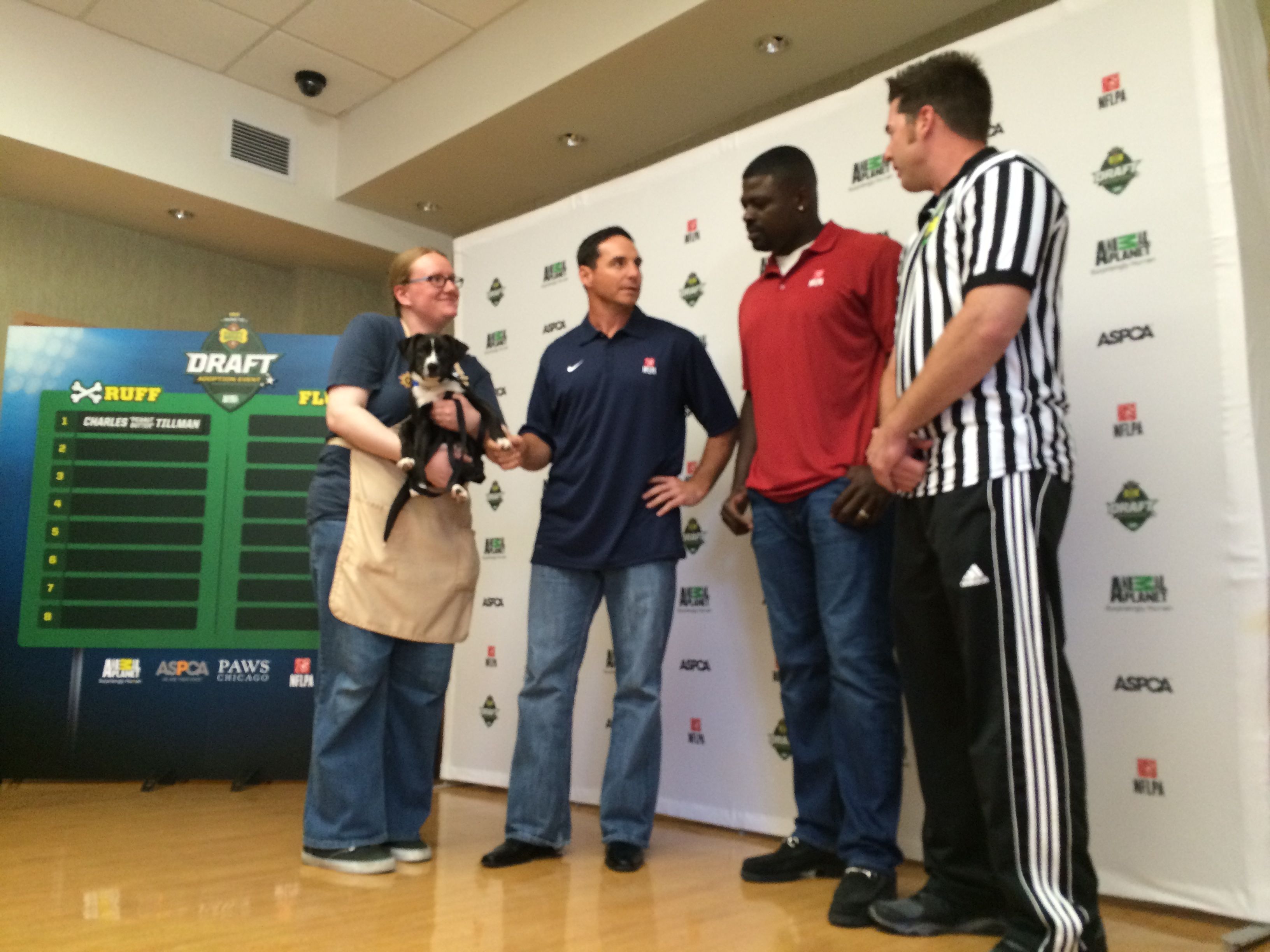 Smith's was one of the dogs chosen in the draft, but in truth, he'd already found a new home.
"I'm waiting on this one right here," Smith said afterward, smiling at the mixed-breed youngster that was taken in the draft by former Bears defensive end Alex Brown and NFL kicker Jay Feely.
Brown and Feely, members of team "Fluff," battled against team "Ruff," which comprised Eric Winston, president of the NFL Players Association and currently an offensive lineman for the Cincinnati Bengals, and Carolina Panthers linebacker Thomas Davis.
Teams Ruff and Fluff each got five picks, choosing from a table of names, all of them puns on real NFL players' names. The event aimed to give the rescue puppies more exposure. After all, if an NFL player wants you on his team, who wouldn't?
Characters such as "Mutt Ditka," "Barkus Allen" and "Ronnie Lotts of Treats" were among the dogs honored.
"When we found out the [NFL] Draft was going on [in Chicago], any opportunity that we have to draw on a football pun and connect it with puppies, we're going to take advantage of that," said Chris Finnegan, a spokesman for Animal Planet, which broadcasts the annual "Puppy Bowl."
"Puppy Bowl" is broadcast around the time of the Super Bowl and aims to raise awareness of animals in need of homes. Finnegan, 38, said it was the first draft-themed event ever, and one of several efforts nationwide that Animal Planet is involved in to help find rescue dogs new homes.
The dogs selected are not shoo-ins for the "Puppy Bowl" itself, though Finnegan said they'll "absolutely be considered" — but to everyone there, the real issue was much greater than a game.
"I grew up with dogs — I grew up with cats and dogs, actually," NFLPA President Eric Winston said. "Anybody you talk to that has an animal in the house, it's like a part of the family. I think any time you can add on to the family, it's a great cause."
On Monday, Sylena Smith's daughter wanted her family to have a new member.
"I'm happy because my 7-year-old is happy," Smith said. "I've been a new home owner for about a year now, and I've been debating on whether to get a dog. So I think it's about time she had what she wants."
Smith and dozens of others looked on as the current and former players shared laughs during the event. After each pick, they had to give the draft commissioner, Puppy Bowl "rufferee" Tommy Gimler, their reasons for the selection.
The players channeled their inner general managers, lauding the dogs' speed, awareness and toughness.
"I think it's very satisfying, very fun," Gimler said. "It's a fun job that's also helping the dogs and communities."
Gimler, 37, said he was already the owner of a dog — otherwise he may have walked away with one himself.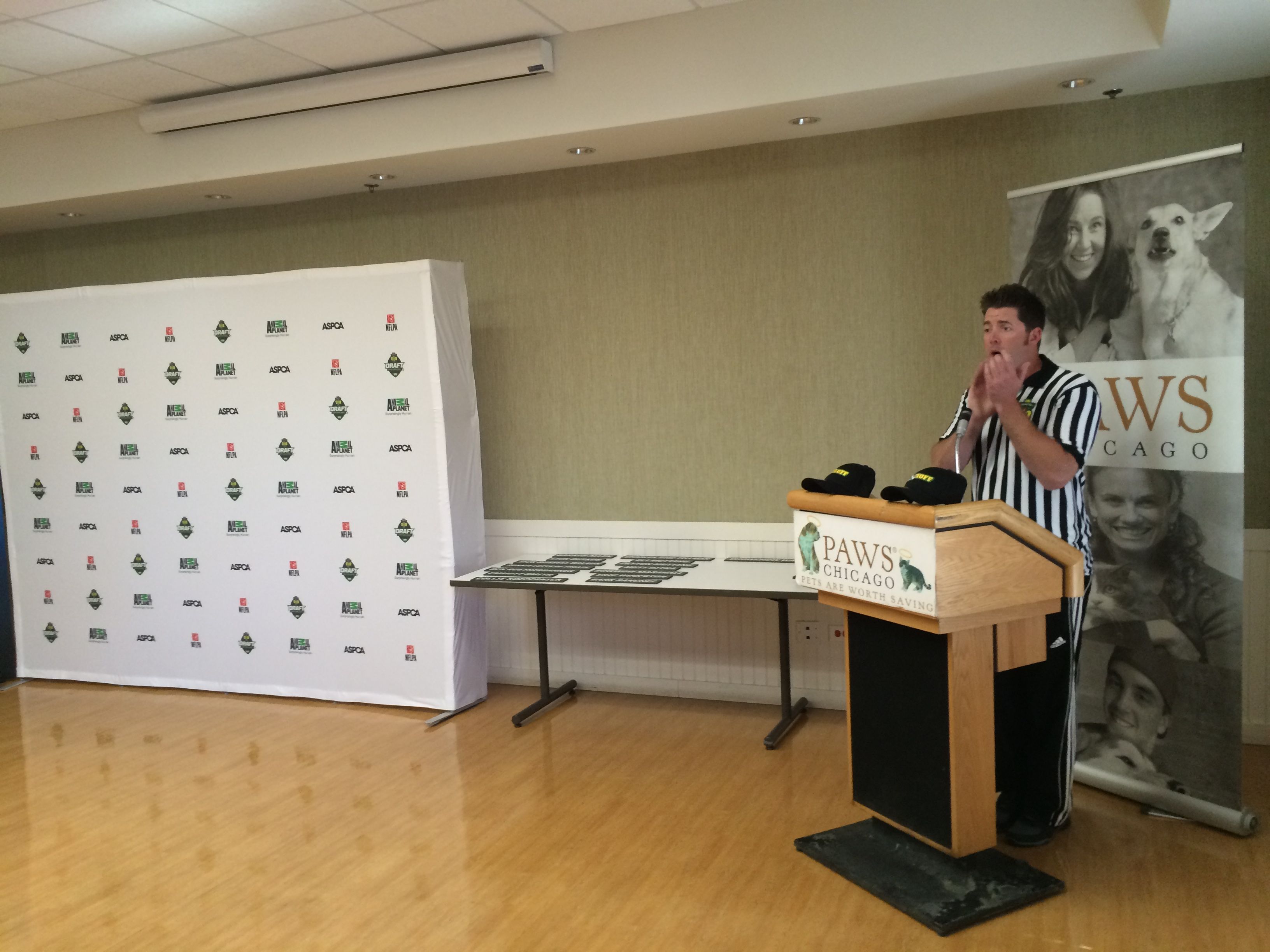 Potential parents also got an added financial bonus Wednesday: some dogs were labeled "MVPs," meaning they were long-timers at the shelter that perhaps required extra care. Animal Planet and the ASPCA chipped in to waive the adoption fee for anyone who picked up one of those animals, according to PAWS.
"What we're hoping to do is highlight how valuable they are as pets — because we've caring for them for so long – in order for them to find their forever home," said Mark Lukas, a 10-year volunteer for PAWS and a former trader at the Chicago Mercantile Exchange who now works as a radio voiceover artist.
The hour-long draft saw 10 puppies selected. But as always, all puppies were and are available to be picked up — by anybody.
"The best part is seeing how incredibly excited the people are when they're walking out with their pet," Finnegan said.
Getting to see football stars was just gravy to some in attendance. Former Chicago Bears defensive tackle Anthony "Spice" Adams got perhaps the loudest applause when he arrived fashionably late, which he said was because he'd just come from Lurie Children's Hospital.
It all culminated with a photo opportunity at the end, with Winston, Feely, Davis, Brown and Adams standing alongside volunteers and puppies alike.
For Sylena Smith, the end of the event meant she could return home. This time, with a new family member, lauded by NFL stars — and soon to be loved by her longing 7-year-old.