This is an archived article and the information in the article may be outdated. Please look at the time stamp on the story to see when it was last updated.
Wintery weather here and on the East Coast created a domino effect that left Midway Airport with more planes than gates last night.
Some planeloads of Southwest Airlines passengers were marooned on the tarmac for three hours and more.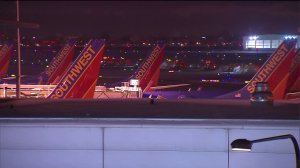 The last jet deplaned at 3:15 am.
The system-wide delays prompted Southwest and AirTran Airways to announce a suspension of all operations at Midway this morning until noon.
But some employees tell WGN's Nancy Loo that a few flights did leave this morning.
Southwest operates 220 flights a day at Midway.
More than half were cancelled yesterday.
A line snaking back and forth the length of Midway's ticketing counters was full of passengers looking to re-book after the cancellations.