This is an archived article and the information in the article may be outdated. Please look at the time stamp on the story to see when it was last updated.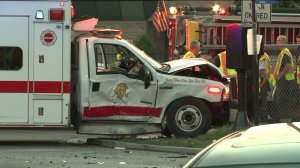 A hit and run crash injured two paramedics on the West Side Friday morning.
It happened at the intersection of Jackson and Laramie just before 5:00 a.m.
Police said a car hit the ambulance, and the two people inside the car took off.
The two paramedics inside the ambulance were taken to the hospital in good condition.