This is an archived article and the information in the article may be outdated. Please look at the time stamp on the story to see when it was last updated.
Newcomer Lupita Nyong'o won best supporting actress for her performance in "12 Years a Slave" at the 86th Academy Awards on Sunday night.
"It doesn't escape me for one moment that so much joy in my life is because of so much pain in someone else's," Nyong'o said, paying tribute to her character, Patsey, a slave in 1840s Louisiana. Her voice cracked noticeably as she spoke.
Jared Leto led off the Oscar ceremony by winning best supporting actor for his performance in "Dallas Buyers Club."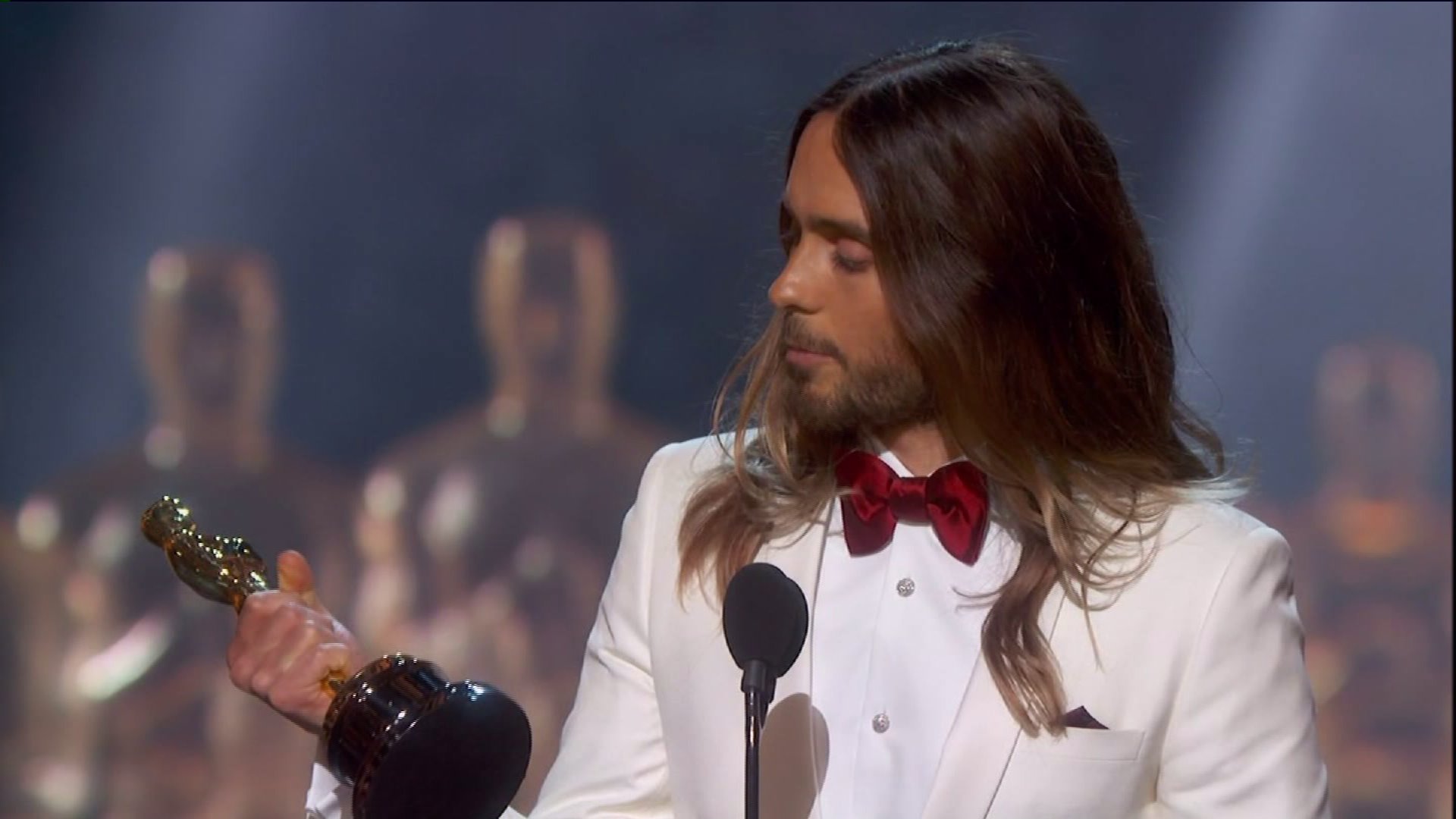 He paid tribute to his mother and his brother Shannon, "the best big brother in the world," and "all the dreamers watching this in places like Ukraine and Venezuela."
"We are thinking of you tonight," he said.
"Buyers Club" also won an Oscar for makeup and hairstyling.
Darlene Love, one of the singers featured in documentary winner "20 Feet From Stardom," launched into an impromptu version of "His Eye Is on the Sparrow" upon the film's win. Her full-throated take brought down the house.
"Gravity" has five Oscars in the early going: visual effects, sound mixing and sound editing, cinematography and film editing.
Italy's "The Great Beauty" took home the Oscar for foreign-language film. "Frozen" won best animated feature.
DeGeneres' subtle pokes
Ellen DeGeneres led off the show with some subtle pokes at the stars and their appearances.
After praising such stars as Nyong'o — who was dressed in a striking sky-blue Prada gown — DeGeneres singled out Liza Minnelli, saying that she was "one of the best Liza Minnelli impersonators" she'd seen.
"Good job, sir," she added. Minnelli took the joke well.
"American Hustle" and "Gravity" led all films with 10 nominations each. "12 Years" had nine.
There are several stories to follow during the 2014 Oscars ceremony — including a number of firsts if either "12 Years" or "Gravity" take a pair of big prizes.
If Steve McQueen wins best director for "12 Years," he'll be the first black director to win the Oscar. "Gravity's" Alfonso Cuaron would be the first Latino director to do the same. "Gravity" would be the first science-fiction film to become best picture.
"History will be made either way," says awards watcher Clayton Davis of AwardsCircuit.com.
Dressed in blue
Amy Adams, up for best actress for "American Hustle," confessed to being nervous, even though she's been nominated four other times.
"I woke up at 5 a.m. I couldn't get back to sleep," she told CNN's Piers Morgan on the red carpet.
Still, the main attraction of the 2014 Oscars isn't so much the winners. It's the event — a showbiz extravaganza once described by Johnny Carson as "two hours of sparkling entertainment spread over a four-hour show."
Among this year's segments is a tribute to the 1939 film "The Wizard of Oz," which is celebrating its 75th anniversary this year. Morgan talked with the children of "Oz" star Judy Garland — Minnelli and Lorna and Joey Luft — on the red carpet.
Asked who was the best singer in the family, Minnelli — an Oscar winner for "Cabaret" — responded quickly.
"Mama, we all know that," she said.
Blue was the color of choice for many stars.
Nyong'o was wearing blue. So was Minnelli. Adams was dressed in Gucci.
Lawrence was an exception: She was in a striking red dress.
For "12 Years" actress Alfre Woodard, very little of the glitter matters.
Asked by Morgan what she was wearing, Woodard laughingly turned the question back toward the work that got all the nominees to the red carpet in the first place.
"I hope I'm wearing my talent tonight," she said.
The 86th Academy Awards are airing from Hollywood's Dolby Theatre.

TM & © 2014 Cable News Network, Inc., a Time Warner Company. All rights reserved.