This is an archived article and the information in the article may be outdated. Please look at the time stamp on the story to see when it was last updated.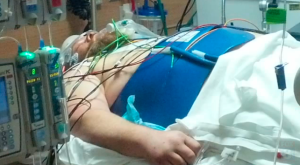 A Northeast Ohio man is sharing an amazing near-death experience.
According to our sister station WJW in Cleveland, Brian Miller first suffered a massive heart attack involving his main artery, but seemed to be doing well at University Hospitals Ahuja Medical Center, until the next night when his heart went into a deadly arrhythmia called Ventricular Fibrillation.
"He had no heart rate, he had no blood pressure, he had no pulse,"  Miller's ICU nurse Emily Bishop told WJW. He was in this state for about 45 minutes.
"The only thing I remember is I started seeing a light, and started walking toward the light," Miller recalls.
Then suddenly, Miller started breathing normally again. He did not suffer any brain damage.
For much more on this story, click here.