This is an archived article and the information in the article may be outdated. Please look at the time stamp on the story to see when it was last updated.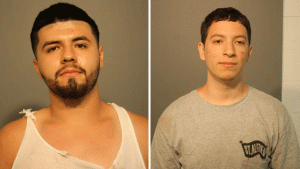 Five people are facing charges following a melee in the 4400 block of North Simonds near Montrose Beach Sunday night.
Efrain Saucedo, 23, and Emmanuel Lopez, 19, both of Aurora, were each charged with felony aggravated battery, police said.
Saucedo and Lopez were observed throwing bottles that struck two officers as they responded to the disturbance, police said.
One officer was taken to Weiss Memorial Hospital and later released, while another police officer was treated at the scene.  Police say two other officers were hit by debris but refused treatment.
Also arrested were a 19-year-old Summit man and a 22-year-old Aurora man who were charged with misdemeanor aggravated assault to a police officer and misdemeanor mob action, police said.  A 17-year-old boy from Chicago was also arrested and charged with misdemeanor mob action and felony criminal damage to property, police said.
On Monday morning, garbage and debris could still be seen this morning scattered across the area. Crews arrived around 6:30 a.m. to pick it all up, and neighbors were shocked to see the mess.
"It doesn't make sense. It's disgusting," said Nelson White. "And they just flung things everywhere here, and there are empty garbage cans around. There's no reason for this."
The initial fight started at a party that was promoted on social media.
Police officers responded, but then some within the crowd turned on them and started throwing bottles, cans, and rocks.
Officers left the scene to regroup and then returned to sweep the crowd out before they closed the beach.
The Chicago Tribune contributed to this report.