This is an archived article and the information in the article may be outdated. Please look at the time stamp on the story to see when it was last updated.
CHICAGO — Chicago police released a photo of a car they are seeking in connection to the shooting of a Chicago police officer. On Wednesday police released a photo of a dark colored Toyota Camry with tinted windows they said was used in the shooting of an officer. In the same release, police said the Chicago Police Memorial Foundation is offering a $10,000 reward for information leading to an arrest.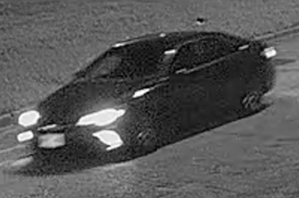 The 25-year-old officer was driving with a female friend on the 200 block of 37th Street around 1:30 a.m. Wednesday when a gunman unleashed a barrage of bullets from a vehicle, firing 20 shots at the SUV. The officer suffered a gunshot wound to the head and crashed into a stop sign, while the gunman fled the scene in a black Toyota SUV. The officer was transported to University of Chicago in critical condition, and underwent emergency surgery. The woman in the vehicle was not injured. While the officer's name has not been released, Chicago Police Superintendent Eddie Johnson said the shooting of the 6th District officer "has significant impact on me personally." "I worked alongside his dad, who retired in October.  This also is where my son now works, and works alongside this officer," Johnson said. After the surgery, the wounded officer is showing his toughness, as Johnson said he was able to grip his hand and respond to questions by blinking his eyes. "He's responding to verbal communication and he actually gave a thumbs up, so, just keep praying for him that he pulls through," Johnson said. His parents, friends and family have joined the injured officer at his bedside. After visiting the victim herself, Mayor Lori Lightfoot said in a statement, "we must find the will as a community to say enough is enough." An investigation is ongoing, as police hope surveillance video will help them identify the gunman's vehicle. The head of the Fraternal Order of Police, Kevin Graham, laments the violence against his police officers. "Many of these officers I know. It tugs at my heartstrings when I have to see these officers in the hospital," Graham said.