This is an archived article and the information in the article may be outdated. Please look at the time stamp on the story to see when it was last updated.
Some random musings, with or without a question mark.
Is Dioner Navarro the first player in history to be carted off the field and not go on the disabled list?  # Mandelbaum.
Nice to see Rizzo deliver that 2 run single last night. He has struggled mightily with RISP, hitting .188 in those situations. Dale feels that his swing gets to big and would improve dramatically with a shorter stroke. Last nights base hit may provide the positive feedback he needs to adjust his approach, or it might just be one good AB. Time will tell. Tough for a young slugger to balance the desire to drive the ball out of the ballpark with a willingness to just hit a line drive somewhere, but that is what the best hitters do.
Miguel Cabrera swings at 79% of all pitches in the strike zone. 3rd highest rate in baseball and well above league average. He chases 33% of pitches out of the zone, just a little above league average. This is the approach the Cubs are promoting when they talk about selective aggresiveness. Hunt strikes and be ready to hit.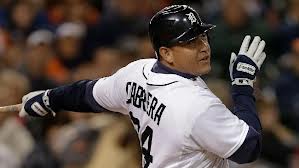 Tip of the Cap to Chris Rusin: 6 shutout agains the Cards last night two starts after going 7 scoreless against the Giants. That's the last two World Champs in case you were wondering.Meaningful? Probably not, but good for Chris.
Random trivia: Who is the all time homeringest ( that's right homeringest) Keith in MLB history?
Keith Moreland? Nope at 121 Zonk comes in second to Keith Hernandez who banged out 162 round trippers.
Get over there,
jd