This is an archived article and the information in the article may be outdated. Please look at the time stamp on the story to see when it was last updated.
Chicago police issued a community alert after two people were attacked on the city's Northwest Side.
The attacks happened near the intersection of Belmont and Oak Park avenues between 9:45 a.m. and 10:30 a.m. Saturday, police said.
One of the attacks was a sexual assault. According to police, a man ran up to a woman walking alone and tried to force her into his car. The man reportedly told the woman he had a gun or knife, but not showing one, he sexually assaulted her, the alert said.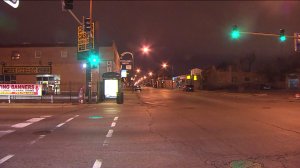 In the second attack, the same man reportedly hit another person in the face with his fist and foot, the alert said. That person's age and gender was not disclosed.
The man is described as being black, between the ages of 28 and 35, between 5-foot-10 to 6-foot, and about 170 pounds, the alert said. He has short black hair, a medium complexion, chipped or cropped teeth and silver earrings in both ears, the alert said.
He was last seen wearing all black clothing and black shoes, and driving a black vehicle.