This is an archived article and the information in the article may be outdated. Please look at the time stamp on the story to see when it was last updated.
For millions in the Northeast, the storm is over — but being snowed in isn't.
The mammoth blizzard that broke records in some areas left its heavy footprint in place Sunday. Temperatures topping out only in the low to mid-30s were too low to melt the piles of snow.
President Barack Obama announced a state of emergency in Connecticut, which got some of the heaviest snowfall. The city of Hamden had a whopping 40 inches.
"Tomorrow the melting will begin as temperatures climb into the 40s," said CNN Meteorologist Alexandra Steele. "But it will come with some issues."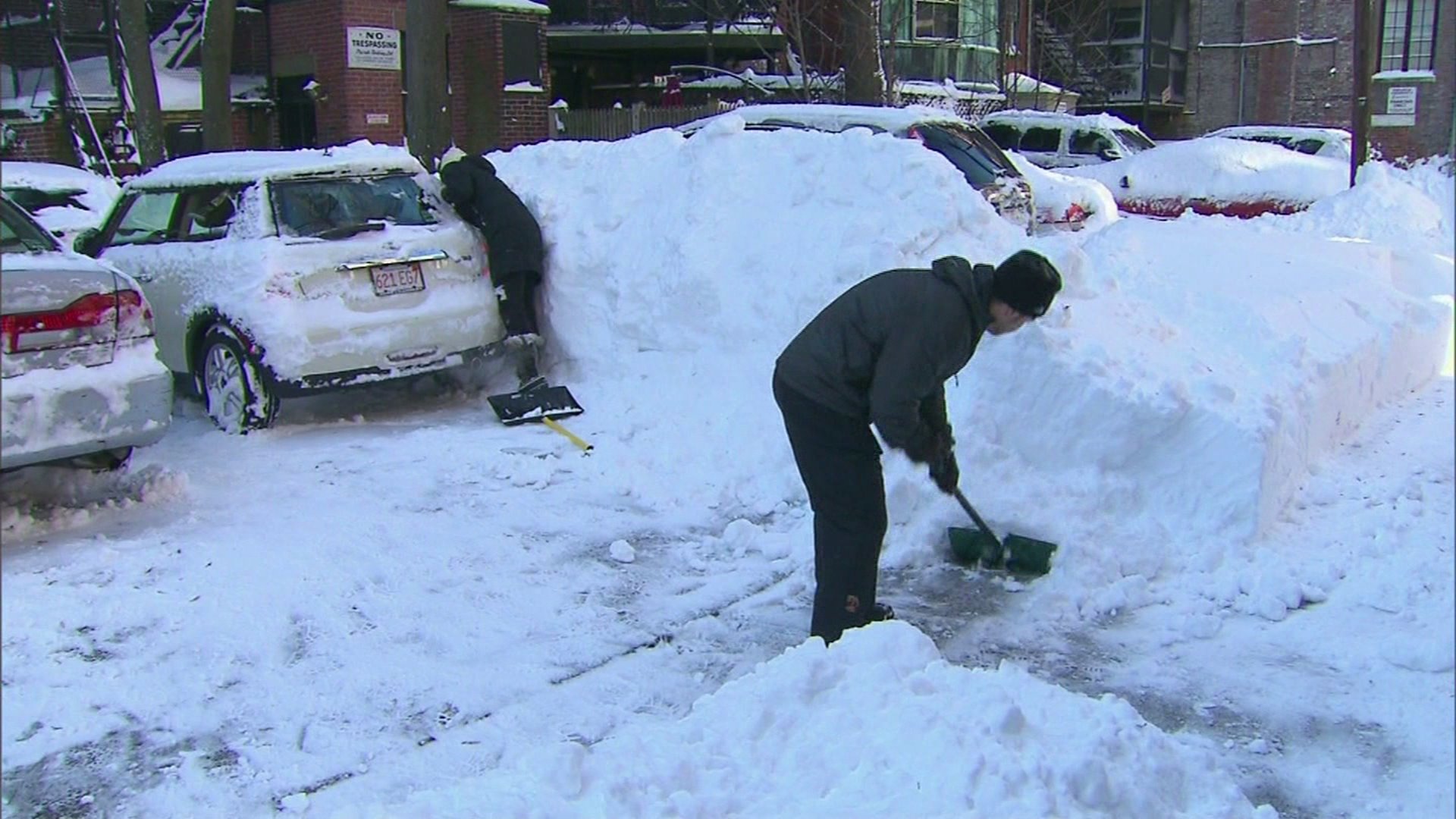 Expect a messy commute Monday morning in hard-hit Boston with a mix of rain and snow, she said.
Boston residents digging their cars out were having trouble finding a place to throw the snow. One shoveler said she was considering taking the train to work instead of trying to drive Monday morning.
"There's a ton of snow and there's nowhere to put it," Lena Berc said. "So it's really frustrating trying to find nooks and crannies."
But on Sunday, some normalcy returned to the roads and skies. At Logan International Airport in Boston, a few dozen flights had landed by midmorning, and a spokesman for the airport said airlines were telling him that they would be back on schedule by the end of the day.
The flight-tracking website Flight Aware listed more than 400 U.S. flights canceled Sunday.
Amtrak announced a limited schedule of train service between Boston and New York, while other routes in the Northeast were still canceled and some were operating on a normal schedule.
As of 4:30 p.m. ET Sunday, about 270,000 power customers were still in the dark, an improvement from the 635,000 without electricity Saturday afternoon.
At least nine deaths in three states and Canada are blamed on the snowstorm, which was spawned by two converging weather systems.
Residents from Pennsylvania to Maine are trying to dig out from as much as 3 feet of snowfall.
Rhode Island Gov. Lincoln Chafee said Sunday he was pleased with the work done in preparation and response to the storm. He told those without power — more than 38,000 customers — that help was coming.
"We're working as hard as we can. We're seeing progress every hour," he told reporters in Cranston, Rhode Island.
He added that cleanup had been made easier because many residents had complied with a 24-hour driving ban, allowing crews easier access to trouble spots.
Boston Mayor Thomas Menino said his city was making side streets its priority Sunday, as crews borrowed additional snow-clearing equipment from other cities. He urged drivers to stay home one more day and said schools there would be closed Monday.
Deadly consequences
At least nine people were killed in accidents related to the storm, including five in Connecticut, two in Ontario, Canada, one in New York and one in Massachusetts — a 14-year-old Boston boy who was helping his father shovel snow.
The boy hopped in the snowed-in family car to warm up, but the engine was running and the exhaust pipe was blocked by snow, causing carbon monoxide to accumulate in the car. Firefighters were unable to resuscitate the boy.
Boston police were investigating another death possibly caused by carbon monoxide, when a man in his early 20s was found dead a vehicle.
The department warned about the dangers of carbon monoxide poisoning from trying to stay warm in a car with exhaust pipes blocked by snow.
In Poughkeepsie, New York, an 18-year-old woman lost control of her car in the falling snow and struck a 74-year-old man walking near the side of the road, police said. He later died from his injuries.
The situation could have turned out worse for some drivers in Long Island, who had to be rescued from cars that were stuck and virtually frozen in place.
Epic mounds of snow
On Interstate 95 in Connecticut, traffic cameras showed most lanes were open underneath a bright afternoon sun, but traffic was extremely light. One single car accident had stymied travelers in the northbound lanes near mile marker 56.
In New York, the Long Island Expressway was closed through 9 p.m. ET in Suffolk County, New York, a Suffolk County Police spokesman said. Kerry Pecorino said the highway was shut down between mile markers 57 and 73.
In Boston, students at the Wentworth Institute of Technology took a series of photographs covering the 26-hour storm.
iReporter Filipe Pereira said Wentworth students, who were expecting to go to class on Monday, had enjoyed the weekend storm, engaging in massive snowball fights and building snowmen everywhere. People were even skiing down one street, he said.
The streets around the small school were still a mess but they were no longer closed.
"People have been going all over the roads with no problem," he said.
At its height, the storm heaped snow on Connecticut at a dizzying rate of 4 to 5 inches an hour.
A city official said it snowed so hard that even the snow plows were stuck.
The city has 240 miles of road, Curt Leng said, but only one sixth of the roads were clear. Many others had only one lane open.
"Due to the amount of snow that came down, it seems not even the plows came out," photographer Mia Orsatti told CNN's iReport from Hamden. "The street was a white, wide, soft blanket of snow."
Scott Green posted a photo of his deck in Cromwell — covered waist-high with snow.
Snowfall in Manhattan reached just under a foot, but heavier accumulations piled up in Long Island, where 27 inches fell in Stony Brook.
"Suffolk County has not seen a winter storm like (this) in years, and the massive amount of snow left behind effectively shut down the entire region," New York Gov. Andrew Cuomo said. "From the moment that it became clear that Suffolk County would bear the worst of the storm's impact on New York, the state dispensed an unprecedented level of resources, equipment, and manpower to support local relief efforts."
And some flooding, too
Coastal areas of Massachusetts and Maine were hit by storm surge and flooding.
Some homes and cars were flooded and several areas reported up to 2 feet of water in areas on the sounds or Atlantic Ocean.
In Nantucket, Massachusetts, water reached several blocks inland. In the town of Hull, people on several streets were asked to leave their homes, and in Sandwich several homes were flooded and the access stairs to the beach were swept away.
The Midwest is next
While the blizzard that pummeled Northeastern states has wandered out over the Atlantic Ocean, trouble now brews for northern Midwest states.
A major winter storm will bring heavy snow and strong winds from northeast Colorado to central Minnesota from Sunday into Monday, the National Weather Service said. Eastern South Dakota could see more than a foot of snow and 50 mph winds, "creating whiteout conditions," the weather agency said.
The-CNN-Wire/Atlanta/+1-404-827-WIRE(9473)
TM & © 2013 Cable News Network, Inc., a Time Warner Company. All rights reserved.