This is an archived article and the information in the article may be outdated. Please look at the time stamp on the story to see when it was last updated.
A mother and aunt have been charged in connection to the deadly fire that claimed the lives of two children early Saturday morning.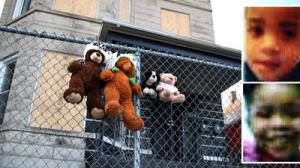 Britany Meakens, 22, and Tatiana Meakens, 23, of the 6400 block of S. Paulina, have each been charged with two felony counts of endangering a child causing death and two misdemeanor counts of endangering the life/health of a child, according to  Chicago Police News Affairs.
Both women are due in court this morning at 26th and California.
The fire broke out around 3:30 a.m. Saturday when four young children were left alone at their home.   
Two of the children, ages four and seven, were able to escape.  The other two children, 3-year-old Jariyah and 2-year-old Javaris Meakens, were killed. The surviving children are in the custody of DCFS.
According to arrest reports, Tatiana is the mother of the two children that were killed.  Britany Meakens, who resides at the same location, is the aunt of the children.