This is an archived article and the information in the article may be outdated. Please look at the time stamp on the story to see when it was last updated.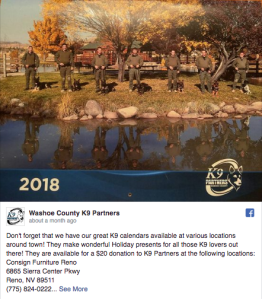 RENO, Nev. — Police in Nevada came up with a creative way to raise money to buy the expensive gear required to protect police dogs.
Washoe County K9 Partners released a calendar featuring all seven dogs on the Washoe County department.
The dogs are trained to find drugs and missing persons and apprehend suspects.
More details about the calendar are available at https://www.facebook.com/WCK9partners/.