This is an archived article and the information in the article may be outdated. Please look at the time stamp on the story to see when it was last updated.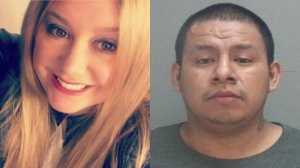 SCHAUMBURG, Ill. — The neighbor of a suburban woman who was found sexually assaulted and strangled in her apartment has been charged with her murder.
29-year-old Bulmaro Mejia-Maya has arrests in several states including Florida where he was charged Thursday with aggravated battery with a deadly weapon.  He has ties in Florida  and just days after the murder, that's where police found him.
Mejia-Maya appeared in court today in Jacksonville, Florida. He wore headphones for translation and shackles around his wrists and ankles.  Mejia is charged with murder, aggravated criminal sexual assault and home invasion.
33-year-old Tiffany Thrasher was killed in her apartment some time between 8:00 p.m. Saturday and noon on Easter Sunday.  Police were called for a well-being check when she didn't show up for church.
Police say Mejia entered through an unlocked window. Police say Mejia acted alone and implicated himself in the murder and sexual assault.
Mejia lived directly across from Thrasher's first floor apartment.
Neighbors say the suspect and a friend would drink out of the back of his pickup daily.  From the spot where they sat, Mejia could see right into Thrasher's apartment.
Schaumburg police say they have no information that Mejia and Thraser knew each other.
Today Thrasher's family had the painful job of emptying her apartment. They issued a statement that says in part:
Our family is devastated by the additional details regarding this heinous act. Words cannot express our pain and suffering.
No word yet about when Mejia will be back in the Chicago area and in front of a Cook County judge.