This is an archived article and the information in the article may be outdated. Please look at the time stamp on the story to see when it was last updated.
The Museum of Science and Industry recently got an upgrade you may not know about. It's one you may not notice at first and one that takes it into the digital age.
The revolutionary OmniMax theater has gone high tech.
The original Imax made its splash at MSI 30 years ago. And back then it was revolutionary.
The Omnimax has recently been replaced. A new projection system promises the same type of surround sound and visual movie experience only with higher quality.
Film is out. Digital is in. And it's no small feat when you consider the domed screen is five stories high.
It's now called Giant Dome Theater.
"This is the most state of the art theater not only in Chicago but in the state of Illinois," says the museum's Gil Perez. "It's only the second system of its kind."
Chicago is second to only to the Great Lakes Science Center in Cleveland.
Perez calls the technology: "Spectacular. Really incredible."
Three laser generated cameras now seamlessly and simultaneously projecting crisper, brighter images for the audience to soak up.
The audio, buried behind the five story screen deep within the rafters, is sharper than ever.
Audiences are now surrounded by the D3D/Christie Laser Dome.
Despite the name D3D there is no 3D projection or 3D glasses involved.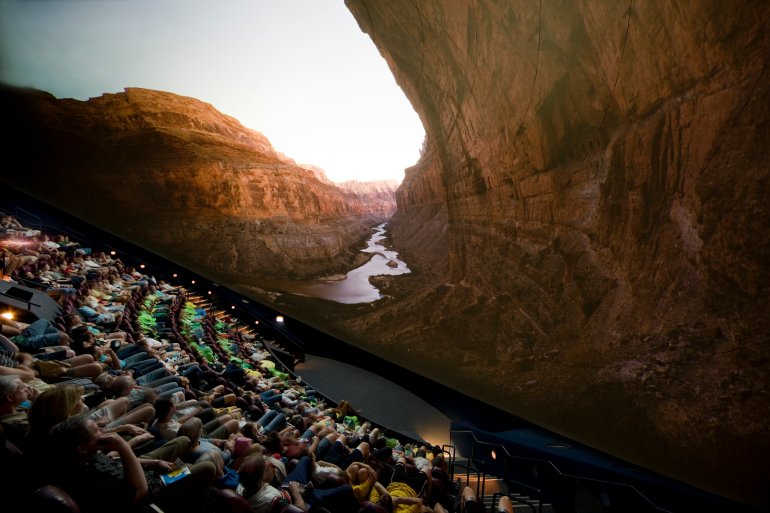 There are about 50 theater and museum candidates ripe for the same upgrade across the U.S. But the digital conversion doesn't come cheap. The system costs about $1.5 million to install, but staff claims it saves a theater anywhere from a quarter to a half a million dollars in operating costs each year.
It also now allows for the museum to play just about anything. It can stream live video, toss in an old movie or the next educational documentary that may be just around the corner. The possibilities are as endless as the sky soaring above to ticket holders below.
Through the month of June there are discounts to see the movies showing on the giant dome. It is $9 for adults and $6 for kids. A 30% deal for families. Amazon Adventure and Dream Big are both showing now.
More information at Museum of Science's website.