This is an archived article and the information in the article may be outdated. Please look at the time stamp on the story to see when it was last updated.
From Lateef Mungin and Pamela Brown, CNN
Students will get back to reading, writing and arithmetic on Thursday at schools all over this small Massachusetts town. Except for one.
Danvers High School. Students and their parents there will talk to grief counselors.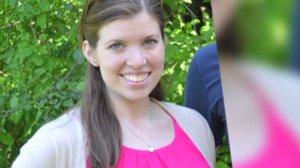 They and police investigators are asking why their much loved math teacher was killed. And how a 14-year-old student could be accused of beating her to death. The answers may lie behind the police tape around this high school.
Those who knew both, student Philip Chism, and educator Colleen Ritzer, were shocked.
"It's just surreal how quickly someone can go, and how much we take for granted everyday," said Danvers High School student Chris Weimert. Ritzer was "the nicest teacher you could ever have," he said. "I can't believe it."
A missing persons case
The ordeal started Tuesday as a missing person case. Authorities first searched for Chism, after he was reported missing. They alerted the public Tuesday evening that the teen had been last seen around 6:30 p.m. But by 11:20 p.m. they got a call that 24-year-old Ritzer had also disappeared.
She hadn't returned home and was not answering her phone, said Essex County District Attorney Jonathan Blodgett. Police in Topsfield, the town just north of Danvers, around 12:30 a.m. spotted Chism walking alongside a busy road there.
At Danvers High, police found blood in a second-floor bathroom, the district attorney said. The teacher's body was soon discovered behind the school.
Detectives interviewed Chism, and whatever the teen told them about what went on at the school and in the surrounding woods, coupled with video surveillance, led to an arrest.
In court, it was alleged the teenager "did assault and beat" Ritzer, leading to her death.
"The juvenile was subsequently placed into custody and booked for murder," adds the complaint.
The 14-year-old was arraigned Wednesday afternoon in a Salem, Massachusetts, court for murder, then ordered held without bail. A grand jury could decide if Chism will be charged as an adult.
A teacher who went the extra mile
Meanwhile, outside the courtroom, in the tight-knit community of Danvers, many were at a loss. Ritzer was beloved, her friends say. She posted inspirational messages on her Twitter account and went the extra mile to help students.
"She was talking on Saturday about this year was a good year. She was teaching freshman for first time. She was happy," said Jen Berger, Ritzer's best friend. "I don't even know what the world is like without her. It's a scary thought."
Sympathy spread through the region, making its way into the baseball World Series. Bleachers full of fans who had assembled to watch the Boston Red Socks take on the St. Louis Cardinals observed a moment of silence in Ritzer's honor, before Game 1 began at Boston's Fenway Park.
Charlotte Dzerkacz in 2011 taught at the same middle school with Ritzer, during which time the two became close friends.
Ritzer seemed to always wear a wide smile and was approachable to students and colleagues alike.
"She was energetic, she was compassionate," Dzerkacz said. "You couldn't ask for anything more from a teacher or a friend."
A quiet and normal student
Chism is a quiet young man, those who know him said. He excelled at soccer and made a harmless impression.
"He … seemed quiet and reserved, but he just seemed normal," said Ariana Edwards, who was in Chism's English class.
Chism didn't drink, do drugs and came from a good family, one of his closest friends said. He described Chism as a good athlete who was shy at first but eventually warmed up to people, adding he hadn't been acting strangely lately.
This friend and others got their first hint something was awry when Chism didn't show up for soccer practice Tuesday. The team ended up setting out to look for their teammate, after seeing texts that he was missing.
As they and police were looking for him — and after Ritzer was killed — Chism went to the movies, a source with knowledge of the investigation said.
Chism was a newcomer to Danvers, a town of about 26,000 people. His family had bounced around as he lived in different cities in Tennessee and Florida, since he was in fourth grade, authorities in those states said.
Student suspect was in slain teacher's class
Blodgett, the prosecutor, declined Wednesday to offer specifics on the relationship between the suspect and the late teacher, though his office said Chism attended one of Ritzer's classes.
All seven schools in the North Shore town closed Wednesday, as investigators did their work and students and residents mourned the loss of Ritzer. Everything will reopen Thursday except the high school, but counselors and grief specialists will be available there for two hours during the day, said Superintendent Lisa Dana. Classes throughout the town are set to resume Friday, she said.
Ritzer graduated from Assumption College in 2011. She was working on getting a master's degree in school counseling at Salem State University, that school said.
"She believed children have much to offer and often do not realize how special they are as individuals," the university said. "In her application to Salem State she said she was dedicated to 'helping students in times of need.'"
Ritzer was known to take to Twitter to dole out homework assignments and wisdom to her students.
"No matter what happens in life, be good to people," she wrote in August. "Being good to people is a wonderful legacy to leave behind."
CNN's Kevin Conlon, Dana Garrett, Laurie Segall, Eden Pontz, Rob Frehse, Rose Arce, Chandler Friedman, Stephanie Gallman, Alexis Weiss and Bob Crowley, as well as journalist Alexandra Field, contributed to this report.