This is an archived article and the information in the article may be outdated. Please look at the time stamp on the story to see when it was last updated.
Dozens of cars are spending the morning in snow covered ditches.
No new snow fell Monday, but the wind is whipping around snow and ice from the weekend.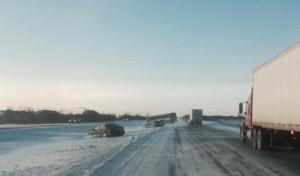 We've seen no major issues on the highways around the Chicago area.
But that's not the case when you head south on I-57.
The right lane looks clean for the most part, but the left lane has patches of snow and ice.
State police report at least 80 cars wound up in ditches near Kankakee.
The Kankakee's Sheriff's Department says they've assisted 300 drivers since Sunday night.
LATEST UPDATES GO TO CHICAGO WEATHER CENTER