This is an archived article and the information in the article may be outdated. Please look at the time stamp on the story to see when it was last updated.
CHICAGO --   Police are looking for two men who conned a 73-year-old woman in her near West Side home.
Around 1 p.m. Thursday, Martha Espinoza got a knock on her door in the 1800 block of North Wood in the city's Ukrainian Village neighborhood.
A man was asking about the "For Rent" sign posted for the upstairs unit of the family's two flat.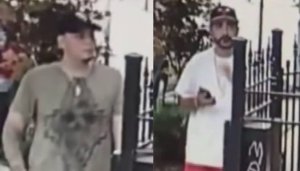 Martha told the man to wait and when she came back to the door, he was with a second man who was said to be the first man's brother the one who wanting to see the apartment.
Martha took that man upstairs, but she says something didn't feel right because the man seemed to be trying to keep her preoccupied.
She returned to her downstairs unit to see the second man stuffing his pockets with gold jewelry and about $500 in cash.
She followed the men outside with her dog. After several minutes, the men fled in a dark colored Chevy Equinox with temporary plates.
Martha was not hurt but she is shaken.
No one is in custody.
The family is asking anyone with information to contact Chicago police