This is an archived article and the information in the article may be outdated. Please look at the time stamp on the story to see when it was last updated.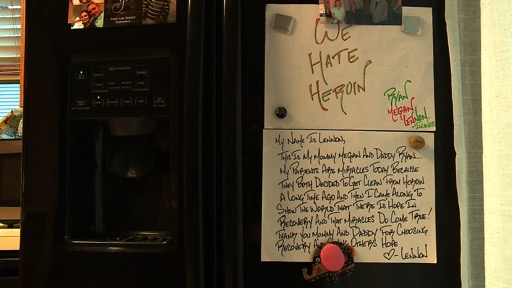 CHICAGO — To look at one beautiful family, you would think they have it all. But demons linger from their past.
Pinned to the refrigerator in Megan and Ryan Johnson's kitchen is a letter written by a loved one posing as their 9-month-old toddler Lennon.
"Thank you mommy and daddy for choosing recovery and for giving others hope," the letter says in part.
Megan and Ryan are recovering addicts. For Ryan, using drugs began innocently at first: watching his stepfather take pills for pain. Soon the teenager thought the powerfully addictive pills could take away his pain as well, and he became addicted.
"I would not want to do it, not want to get high and the whole time I am (thinking)… I shouldn't be doing this, and I can't stop myself. My brain almost shuts off and suddenly I am high," Ryan said.
Doctors say opioids can actually target and "hijack" the brain's pleasure center.
After years of attempting and failing recovery, Ryan has been clean for a year. He met Megan in a program and now they help each other stay clean. They also have a tiny reminder of the huge cost of failure named Lennon.
"She can't keep me sober but she is definitely a good motivation for me to continue to do what I need to do for myself and for him as well," Megan said.
Recovery is a constant effort. Every day, Ryan and Megan load their daughter into their truck to go to meetings, rain or shine. It's always a battle.
"Sometimes I don't want to go or I don't want to pack her up. Or I know she's tired or she might be crabby during it. But I need that," Megan said.
"Without recovery this doesn't exist," Ryan agreed.
To remind them of the importance of staying sober, a relative wrote them this letter from the Lennon's perspective, which they read as it sits pinned to their refrigerator:
My Name Is Lennon,

This is my mommy Megan and daddy Ryan
My parents are miracles today because
they both decided to get clean from heroin
a long time ago and then I came along to
show the world that there is hope in
recovery and that miracles do come true!
Thank you mommy and daddy for choosing
recovery and giving others hope.