This is an archived article and the information in the article may be outdated. Please look at the time stamp on the story to see when it was last updated.
Going under the knife for a new life– meet a woman who took a seemingly drastic step – four procedures in one day. She says the results have made every day since better.
"I want to look in the mirror and feel that my face matches what I feel inside.
It was an idea born after the birth of her daughter, Jenny, when Dorothy Nichols was 44-years-old. That was 20 years ago.
Dorothy said from the day she was born people said to me 'oh your granddaughter is adorable.'
Even at work as a substitute teacher, Dorothy felt the sting to her self-esteem.
"They'll raise their hand and say 'Mrs. Nichols why does your neck wobble?'
The humiliation drove Dorothy to plastic surgeon Dr. Anthony Geroulis.
"We've seen really a bit of an explosion in this area where ladies are wanting to look fresher because they are tired of people asking them if that's their grandchild," Dr. Geroulis said, "We've seen men for the same reason."
"I've continually done things for my family and my kids," Dorothy said, "And I just want to do this for me."
It was a five-hour surgery that included a face, neck and brow lift as well as work around her eyes. All textbook procedures, but for Dr. Geroulis, it's as much art as it is science.
"The artistic aspect is how much to do and how much not to do.  All of that skin will be coming upward and will be redraped in a natural feminine way."
11 weeks later, and Dorothy is ready to show off her results.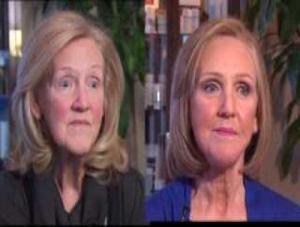 "Meeting people I haven't seen the first thing they say is 'you lost weight!' and I haven't lost any weight."
But the gains have been enormous. The physical differences are striking– but what struck us– the smile. More frequent and more pronounced compared to the first time we sat down with the soon-to-be 65-year-old.
"Now when I look in the mirror I feel like it's me and that's the beauty of it. It's me," Dorothy said. "It's like every day, I go out it's a new adventure."
The most rewarding adventure came just two weeks after her surgery, when Dorothy tagged along with her daughter to a beauty salon.
"The woman was talking to my daughter and then she turned to me and said 'does your mother want to have anything done today?' did you hear what she said, 'your mother!' In twenty years I had never heard that … never!"
In about nine months, Dorothy is planning to have laser treatments on her skin to remove more wrinkles. The cost for all four procedures-– a little less than $30,000.