This is an archived article and the information in the article may be outdated. Please look at the time stamp on the story to see when it was last updated.
McDonald's has issued an apology for an ad that ran on Boston's Mass Transit.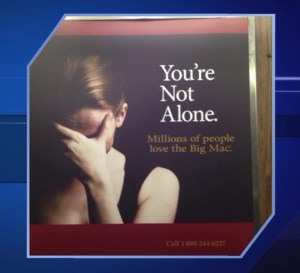 The poster featured a picture of a woman with her head buried in her hands, with the caption: "You're not alone… millions of people love the Big Mac."
Critics called the poster insensitive to those struggling with mental and emotional issues.
McDonald's corporate executives in suburban Oak Brook said the poster was not approved by them, and asked for them to be removed immediately.