This is an archived article and the information in the article may be outdated. Please look at the time stamp on the story to see when it was last updated.
Area roads remained closed Friday morning as forecasters predicted flurries less than 24 hours after temperatures reached the 60s during a storm that dumped 5 inches of rain across Chicago.
State Police said that ramps to North Avenue in both directions and the westbound ramp to Lake Street from Interstate 290 are closed. Interstate 94 is also closed from the split at Interstate 57 to 147th Street in both directions.
Southbound traffic on Interstate 55 is also being diverted off at Interstate 80 because of flooding just north of Route 6, according to Illinois State Police.
The DuPage County Office of Homeland Security and Emergency Management reported dozens of road closures this morning, most of them in Wheaton, Oak Brook and Carol Stream.
Foster Avenue near the North Branch of the Chicago River is also closed, between Pulaski Road and Central Park Avenue. The Chicago River is believed to have crested at about 8.6 feet deep about 4 a.m. Thursday and is expected to return to its normal level by Friday afternoon.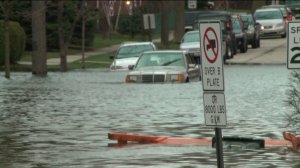 The Chicago area could see a few rain showers today but none that would "aggravate current flooding conditions," National Weather Service Meteorologist Matt Friedlein said.
"What we'll have out there today is plenty of cloud cover and from that some light sprinkles, maybe even some flurries this morning," he said. "It's possible there's a few actual little rain showers out there too but any amounts are likely to only be a few hundredths of an inch."
Not all waterways in the Chicago area have reached their high points, though.
The Fox River in Algonquin is predicted to rise another 15 inches, peaking at 13.4 feet by early Monday morning. It could remain in the "major" flood stage into next weekend, according to the National Weather Service.
The Des Plaines River also flooded neighboring communities throughout the collar counties.
At Lincolnshire, the river is only expected to rise a couple more inches today before dropping to within normal levels by next Friday. "Major" flood stage is 15.5 feet, and the river measured 16.33 feet deep as of 4 a.m. Friday morning.
The same river near Des Plaines was almost 11 feet deep but also expected to drop into normal river depth by late next week. The river remained in the "major" flood stage in River Forest, having surpassed the 18.5 foot depth. The river depth of the river about doubled between 4 p.m. Wednesday and 4 a.m. Friday, according to the National Weather Service.
At Riverside, the river's depth surpassed the previous record of 9.9 feet by about 18 inches. Water is expected to drop below that depth over the weekend and below flood stage by the middle of enxt week.
The West Branch Du Page River near Warrenville reached 17 feet overnight, well above the flood stage of 11.5 feet, but should drop by about 4 a.m. Saturday below the 11-foot flood stage. The East Branch near Bolingbrook also crested about 26 feet deep. A gradual decline over the next few days is expected, though it may not fall back below flood stage until Wednesday morning, according to the National Weather Service.
The Du Page River near Plainfield and at Shorewood both reached major flood stage Thursday morning and rose through Friday morning.
The Little Calumet River in South Holland and Munster, Ind. both reached moderate flood levels but the river is expected to begin dropping later today.
Thursdays storm caused widespread road closures Thursday. At various points throughout the day, Illinois State Police had to close the Edens, Kennedy, Dan Ryan, Bishop Ford and Eisenhower expressways. Roads under viaducts throughout Chicago also flooded, forcing CTA buses to find ways around the standing water.
Check back for more information.
chicagobreaking@tribune.com
Twitter: @chicagobreaking
Copyright © 2013 Chicago Tribune Company, LLC