This is an archived article and the information in the article may be outdated. Please look at the time stamp on the story to see when it was last updated.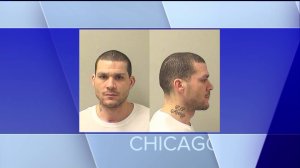 AURORA, Ill. — A manhunt is underway for a suspect who fled a suburban hospital where he was being treated for his injuries.
Billy Cole, 38, is facing several charges.
Monday, police in Aurora were pursuing him when he crashed a vehicle he was driving and ran from police.
Cole was arrested and surrendered only after an officer threaten to use a tazer.
Cole was charged with several felonies including leaving the scene of an accident, aggravated reckless driving and driving on a revoked license.
On Tuesday, Cole simply left the Aurora hospital where he was taken after the crash.  A warrant has been issued for his arrest.
Police describe Cole as a white male, 6'3, about 210 lbs with a cursive style tattoo on his neck.
Anyone with any information is asked to call the Kane County sheriff's department.