This is an archived article and the information in the article may be outdated. Please look at the time stamp on the story to see when it was last updated.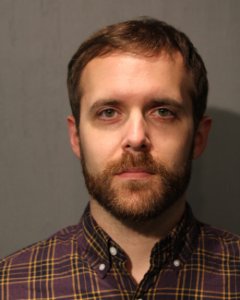 CHICAGO — Chicago police said they've charged the man who pushed a stranger on the CTA Blue Line tracks this summer and set bond for him at $200,000.
Chad M. Estep, 34, is charged with first degree attempted murder, aggravated battery in a public place and trespassing on the CTA without paying.
Investigators said Estep pushed another man onto the tracks in August at the Washington Street Blue Line station, and blocked him when he tried to climb back on the platform.
Estep, who the state's attorney said appeared intoxicated on surveillance video, is accused of pushing 46-year-old Ben Benedict off the platform onto the tracks.
Benedict was on his way home from a Cubs game and the two men did not know each other.
Video was shown in court that showed showed Estep standing behind the victim, then run and push him from behind with both hands. Benedict felt onto his arm just feet from the electrified third rail.
He tried to climb back up but said Estep blocked him and pushed his hands away.
The victim shouted for help and a group of riders were able to pull him to safety just seconds before a train pulled in.
Investigators said security video shows Estep jumping the turnstile and leaving the area.
Police received several tips from the public that led them to Estep. The victim then positively identified him in a lineup.
That's not the only evidence–police got a subpoena for Estep's cell phone, which pinpointed him to that subway stop.
The state's attorney said the video on the platform also showed Estep talking on his phone before the assault and that his phone records matched up with that video.
Estep's attorney feels his client is innocent.
"Quite honestly it's a shame Mr. Estep has to go through all this. The allegations put forth by the state are extremely serious and there's as far as I can see very minimal evidence against Mr. Estep. We're going to do our own thorough further investigation and at the end of it I expect Mr. Estep to be exonerated," Vadim Glozman, defense attorney, said.
Estep is originally from Michigan, but has lived in Chicago for nearly a decade, most recently in Wicker Park.
He is married, and has no criminal record.
His next court date is October 16.
Estep graduated from Northwestern in March with a PhD in neuroscience.