This is an archived article and the information in the article may be outdated. Please look at the time stamp on the story to see when it was last updated.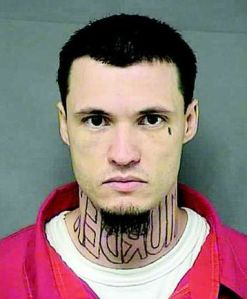 Before he goes on trial for first degree murder, a Kansas man wants a professional tattoo artist to remove or cover a prominent "Murder" tattoo on his neck.
According to the Great Bend Tribune, Jeffrey Wade Chapman's attorney has filed a motion asking that Chapman's tattoo not be seen or mentioned during his trial.
Chapman is charged with first degree murder in the 2011 death of Damon Galliart, whose body was found that morning by hunters.
A motion filed by Chapman's attorney says Chapman has "secured a licensed tattoo artist" to come to the jail to cover up this tattoo.
His attorney says if the judge or jury were to view or have knowledge of this tattoo, it would be prejudicial against Chapman.
Check out the Great Bend Tribune's website for much more on this story.